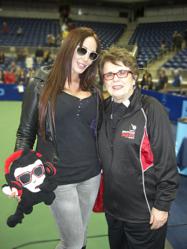 I'm glad I was a part of the of Mylan WTT Smash Hits to raise funds for the Elton John AIDS Foundation
Hollywood, California (PRWEB) October 22, 2012
Jenna Bentley - famous FHM, Playboy and Maxim cover model recently attended the 20th anniversary edition of Mylan WTT Smash Hits presented by GEICO. The event posted a record $1 million for the Elton John AIDS Foundation and the Pittsburgh AIDS Task Force. Grammy award winning icon, Sir Elton John hosted the annual celebrity tennis event along with tennis legend Billie Jean King. Ms. Bentley is a long time supporter of charitable causes such as Cops 4 Causes, the Brent Shapiro Foundation for Alcohol and Drug Awareness, and the One Mind for Research Foundation.
"I'm glad I was a part of the of Mylan WTT Smash Hits to raise funds for the Elton John AIDS Foundation," states Jenna. "We all should support causes that benefits everyone, as it is important to do our part to eradicate HIV/AIDS."
Jenna was ecstatic when she had the opportunity to meet Martina Navratilova, Billie Jean King, and of course music icon Sir Elton John.
"It was a humbling experience meeting such legendary icons! Elton John kissed me twice and it was wonderful meeting Martina Navratilova and Billie Jean King," says Jenna. "I had so much fun watching these super celebrities play tennis for a remarkable cause."
Jenna Bentley is also working on her dance/hip hop album, and she has enlisted the help of 4 time Grammy award winning writer and producer Jason "Poo Bear" Boyd. Boyd has worked with Grammy winning heavyweights Chris Brown and Usher. Jenna and Poo Bear recently completed two dance/hip hop songs for the soon-to-be-released album, and Poo Bear will be working on additional songs for the aspiring hip hop star.
"Working with Jenna was a pleasant surprise. She's driven, hard working, and very talented," says Jason "Poo Bear" Boyd. "I expect her to do great things in the music industry. It's a pleasure working with her."
Jenna's yet-to-be-titled album is slated for release in 2013.
About Jenna Bentley
Jenna Bentley is a multi-talented model/actress/dancer and aspiring hip hop artist. Jenna Bentley was born and raised in Billings, Montana where she founded a small dance school and participated in beauty pageants. Jenna was discovered for her stunningly beautiful looks at court side during a SUNS vs. Celtics basketball game by a boutique Scottsdale modeling Agency. Ms. Bentley was hesitant at first; but with her background in singing, music, dance, choreography, as well as beauty pageants she decided to take a chance and sign with the agency.
Her career has been a whirlwind success ever since. In just over a year she, was featured as cover model on more than a dozen magazine covers. Jenna Bentley shot the cover of FHM Magazine, and have been featured in Maxim, SI Magazine, and have worked with famed Sports Illustrated photographer Antoine Verlgas.
Jenna Bentley is a triple threat with modeling, acting and hip hop credits under her belt. Ms. Bentley has appeared on hit shows CSI, Law and Order, Entourage and many others. And now, Ms. Bentley is working on her debut hip hop album which she currently writing and producing.
For more information about Jenna Bentley:
http://www.facebook.com/jbmusic101
http://www.twitter.com/jennabentley07
http://www.youtube.com/jennabentley07