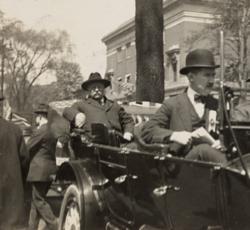 "We stand at Armageddon, and we battle for the Lord"
Chicago Illinois (PRWEB) October 23, 2012
The TRA is hosting the 93rd annual meeting at the Union League Club of Chicago with a star studded line up of noted 1912 era historians to re-live Theodore Roosevelt's last run for the White House as a candidate of what was popularly called the Bull Moose Party, whose convention was held in Chicago in 1912.
Both C-SPAN and the Illinois Channel are covering the event for later broadcast after the 2012 election campaign is completed.
Speakers include Dr. Sidney Milkis, noted 1912 historian from the University of Virginia, Chicago author, Louise Knight, noted historian on the life of Jane Addams, who led the fight for women's rights as part of the 1912 Progressive Party platform, John Gurda, a Milwaukee historian, who will discuss the details of the assassination attempt on Theodore Roosevelt in October 1912, at a campaign stop in Milwaukee, and Professor Emeritus David Zarefsky on Roosevelt's acceptance speech, remembered by history as his "Confession of Faith".
Registration for the event on Saturday, October 27th is available on-line at http://www.traannualmeeting2012.org . Seats are limited.