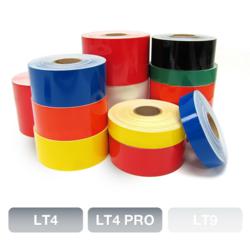 "I use the LabelTac 4 labels as permanent markings for our liquid bottles and flaxes in our chemistry classroom. The bright colors stand out and are easy and quick to print and label."
Lake Oswego, OR (PRWEB) October 23, 2012
Labeltac.com is now offering chemical resistant labels for workplaces that handle chemical products. Schools, colleges and universities can expect great benefits from the use of the LabelTac 4 label supply. The labels come in a variety of color and can be made from the LabelTac 4 Industrial Thermal Printer that is also offered through Labeltac.com. Chemical bottles and flaxes that are used in a science classroom environment should be labeled with proper identification. Safety is a serious threat when working around chemicals and unnecessary accidents can be prevented when supplies are labeled correctly. Chemical spills and overflows do happen but since the labels are chemical and UV resistant, there would be no chance of losing the identification of that bottle or flax.
Drugstore and pharmacy environments could also benefit from using the LabelTac 4 labeling system. The labels could be used for marking numerous bottles and packages that are part of any health workplace. Shelves, boxes and storage areas can be identified by marking with the labels. Preventing the possibility of pulling the wrong product off the shelf and not realizing it could be dangerous if spilled, will keep workers safe from harm. The labels are great for creating floor patterns to identify a possible hazard area to keep unexpected workers from entering. The floor markings will stand up to the harshest environments due to the durability of the material and will not fade, scratch, smear or smudge. They can be used for indoor and outdoor use.
School classrooms and health environments that implement safety programs such as 5S and lean programs will benefit from using the labels as a tool for their safety programs. The labels are visually apparent with the bright colors and by using the labels as a way of organizing products will help in creating a lean workplace. A school employee commented, "I use the LabelTac 4 labels as permanent markings for our liquid bottles and flaxes in our chemistry classroom. The bright colors stand out and are easy and quick to print and label."
Please visit http://www.labeltac.com/labeltac-4/ or call toll-free (866)777-1360 to find out more information about LabelTac 4 Labeling Supplies.