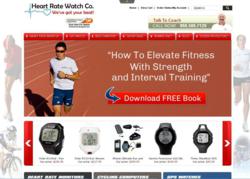 The free books are aimed at showing people how to properly build an aerobic fitness base along with how to strength and interval train properly
Bozeman, MT (PRWEB) October 22, 2012
The Heart Rate Watch Company has added all the product training videos and manuals for Garmin, Polar, Suunto and Timex to their website to create a one-stop experience for customers seeking learning tools.
"Most retailers assume that the manufacturer product support will be enough but we have found that trying to navigate sites to find resource tools confuses customers", says Rusty Squire, President of the Heart Rate Watch Company. He adds, "What we have done is put links to every video and training manual we can find on one page so our customers can go to a single page to access everything they need".
Garmin Forerunner heart rate monitors have videos and manuals spread across dozens of product pages, Polar heart rate monitors have their videos on one page but you have to dig for the manuals and with a Suunto heart rate monitor you need to navigate around to get all the tools. "We wanted to make it super easy for people to get what they wanted", says Squire.
Of course, the Heart Rate Watch Company's philosophy is very similar when it comes to teaching customers how to properly train and use a heart rate monitor. Squire, a world record holder, three-time All-American and national team athlete, has authored two books that are free downloads from the banners on the company's homepage.
"The free books are aimed at showing people how to properly build an aerobic fitness base, along with how to strength and interval train properly", says Squire, adding "We believe in making finding the right tools as easy as possible to help people increase their odds for success and it is what makes our company different from our competition".
Squire stressed that you don't have to be a Heart Rate Watch Company customer to download the training videos and manuals. The books are also free downloads from the company's website so anyone interested in improving their fitness is welcome to download any of these tools for free.