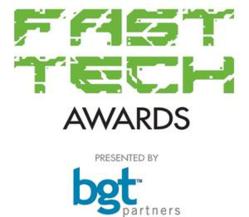 Hollywood, FL (PRWEB) October 22, 2012
Not a small achievement for the twenty-five businesses who were chosen as the Top 25 Fastest Growing Tech companies in South Florida, Connections for Business gladly accepts the honor of being on the list this year. The Fast Tech Awards is an honor which is given to technology companies in South Florida which showed the largest year-over-year growth percentage-wise. In particular, Connections for Business' is a technology company that provides IT services and a whole host of technology solutions for small to medium sized businesses.
Connections for Business' John Garber says to his team regarding the honor, "This morning, I had the privilege of attending the Fast Tech Awards presented by the South Florida Business Journal to the Top 25 Fastest Growing Tech Companies in South Florida. We made the list because of YOUR hard work, dedication and investment in Connections for Business. This prestigious award belongs to all of you....Congratulations!"
The event's Emcee Wanda Myles, from NPR's "Morning Edition" in Miami, was the opener the event held at the Weston Fort Lauderdale. Guest speaker Bill O'Dowd, CEO of Dolphin Digital Media, was there to talk about technology for the next generation and how they are not just using it - they are helping to create it. Since the technology industry continues to boom and grow exponentially, these technology companies honored at the Fast Tech Awards play a vital role in helping individuals and businesses keep pace. Companies like Connections for Business, along with other technology businesses, are also helping our economy by offering employment in high-paid positions to very skilled workers. They continue to improve technology and our communities through their growth.
Connections For Business is a well known managed IT firm in South Florida that has been providing business solutions since the mid 1970's to small and medium sized companies. Their core services include ConnectDev, ConnectIT, and ConnectCare which covers many areas of managed IT services for their clients' different needs. For more information on these services as well as additional information about Cloud Computing or how Connections for Business can help your company, call 954-920-9604 or click to visit http://www.connections.com