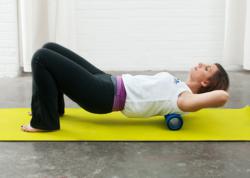 Like having a massage therapist on call 24/7
(PRWEB) October 31, 2012
Golf has long been heralded by many as a relaxing and stress-relieving pastime—but the game can also put a tremendous amount of physical stress and pressure on the lower back. Now, golfers have a practical and effective means to reduce lower back pain and increase their range of motion by investing a few minutes each day using the new GolfRoller.
The GolfRoller is a training aid designed to increase back and core strength, and improve flexibility. It works by allowing users to leverage their own body weight as a massage. The technical term for this process is 'myofascial release,' a type of soft tissue therapy used to relieve pain and restriction of motion. To view photo and video demos of the product in use, go to http://www.golfroller.com.
Larry Sheman, President of the GolfRoller who began developing the product after his own back injury, advises players to try to incorporate a few minutes a day of training with the GolfRoller into their exercise regime or as a part of their warm up routine prior to arriving at a course or golf practice facility. The GolfRoller can also be used at home after a day at the course.
"I think all golfers young and old know how much pressure the golf swing can put on your lower back. The GolfRoller is a great way to loosen up before or after playing a round of golf or practicing," Sheman said. "I'm not suggesting the GolfRoller is a miracle cure for back pain sufferers. But rolling my back for just a few minutes every day has significantly improved my quality of life."
While offering similar physical benefits of conventional foam rollers, the GolfRoller is a durable improvement due to its lightweight, hollow core of plastic, wrapped in a protective neoprene layer. Its two piece construction features a removable cover allowing the outer layer to be easily washed. The GolfRoller is portable and designed to fit into golf bags and luggage for simple travel.
The GolfRoller interior pipe is made in the USA and the product is assembled and packed in Michigan. Only the exterior cover is made in China. The company worked extensively with various suppliers trying to strike the right balance between cost and quality. "It wasn't easy and, in the end, we didn't settle on the least cost method," Sheman said. "At GolfRoller, we believe that keeping jobs in North America has to be a priority for all of us and we are proud that we have been able to do our small part. We hope you enjoy our product."
For more information and to purchase a GolfRoller, visit our website at http://www.golfroller.com and join our Facebook community at https://www.facebook.com/GolfRoller.
About the Golf Roller:
Developed by Karris Consulting Corp. and Larry Sheman, the GolfRoller is a new, affordable exercise and training aid designed to relieve back pain and increase range of motion for golfers. The GolfRoller can be purchased online and comes with free shipping and a one-year cover replacement warranty.
Contact:
Larry Sheman
larry(at)golfroller(dot)com
866-622-2101 ext. 4