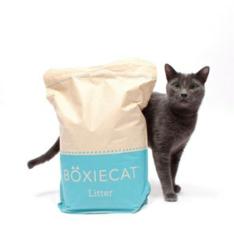 This litter clumps really well, making it last longer and the odor control is amazing. And the delivery is so convenient!
Santa Monica, CA (PRWEB) October 23, 2012
The Cat Fancy Editor's Choice Award for 2012 was recently announced on Cat Channel.com. Among winners is Boxiecat Cat Litter. The Editors of Cat Fancy say of Boxiecat: "This litter clumps really well, making it last longer and the odor control is amazing. And the delivery is so convenient!"
Boxiecat provides its own brand of all natural, premium, scent-free, clumping clay litter. Boxiecat litter eliminates litter box odors without chemical fragrances, is 99.9% dust free, and is long lasting.
The Boxiecat subscription service solves an ongoing problem for cat lovers by making litter box care easy and convenient with home cat litter delivery on a personalized schedule. Subscribers never run out of cat litter, nor have to remember to get more. Home delivery is always free, and subscribers can easily adjust their subscription settings online at any time.
Cat Fancy states "We look for innovative products that reflect quality, creativity and originality, and fill a need in the market. Safety and functionality are essential."
Boxiecat is the first ever subscription cat litter service, and is offered nationally through Boxiecat.com. Boxiecat will be featured in the December issue of Cat Fancy along with fellow competition winners.
About Boxiecat 
Boxiecat provides its own brand of veterinarian recommended, all natural, premium clumping clay litter. Hard clumps form on the top rather than soaking to the bottom of the box, making litter care easy. Boxiecat litter stays clean even after weeks of scooping. It is unscented and completely eliminates ammonia odors without using fragrance as a masking agent. An over 99.9% dust-free cat litter, it is hypo-allergenic and long lasting.
Boxiecat brand litter is shipped directly to subscribers with free home delivery. Subscribers save time, eliminate round trips to the store, and put an end to lifting and lugging heavy containers. Boxiecat provides a convenient solution to the problems associated with cat litter. Boxiecat is a Better Business Bureau accredited business.
Boxiecat provides a guide to Litter and Litter Box Care on their blog.
Boxiecat has been recommended by The Washington Post, and veterinarians across the U.S., and has been featured in USA Today, Cornell University College of Veterinary Medicine's Cat Watch Newsletter, The San Francisco Chronicle, The Houston Chronicle, and more.
For more information about Boxiecat, or to subscribe, visit boxiecat on the web at http://www.boxiecat.com. Customer Care can be reached at (877) 817-0253.