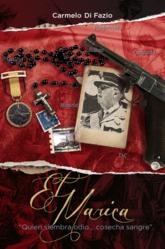 "Three cadavers, a wicked smart vengeance, a very unusual priest and a fag in the Generalísimo's court."
New York, NY (PRWEB) October 23, 2012
This passionate story which transports us to the convulsed, sadist, and intolerant time of Franco's Spain is now for sale. In it the main character crafts and executes a vengeance too smart and wicked yet hard to question. The book's main axis reveals the dangers of gender intolerance based on the abuse of political, military, and most of all religious power. It is a strong critic to the double moral standard of a "righteous" society, that twists in its bowels in search for freedom of thought and desire to express a beautiful love, one that cannot be measured with ideological or sexual barriers.
The intricacies of the book demonstrates it has the perfect combination to become an innovative screenplay for a movie or a short TV series, capable of seducing a demanding audience, hungry for new and credible, real stories. Stories that force us to think, to discriminate, and evaluate our own prejudices and defects toward the false sense of morality in our days, where it is more important to be "politically correct" to remain in the comfort zone, than look for changes or seek equality.
The book is currently available on Amazon, http://www.amazon.com/El-Marica-siembra-odio-cosecha-Spanish/dp/061561910X/ref=sr_1_1?ie=UTF8&qid=1350706969&sr=8-1&keywords=el+marica. For more information about the book, we recommend that you contact the author directly via email at. libroelmarica(at)gmail(dot)com .
Don't miss this fascinating story, garnished with excellent morbid levels, a lot of blood, and beautiful love above all.
El Marica … a novel that according to the author, Carmelo Di Fazio, can be defined by this simple phrase "Three cadavers, a wicked smart vengeance, a very unusual priest and a fag in the Generalísimo's court."