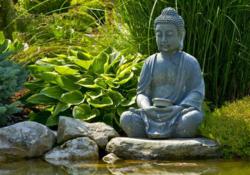 "The most common problem they shared was that they just couldn't stop their thoughts," Emerson explains. "But without realizing it, they were already meditating—they were aware of their thoughts. That space between thought and awareness is meditation."
Munnsville, New York (PRWEB) October 21, 2012
When Kwan Yin Healing's owner Tim Emerson kept hearing the same lament over and over, he decided to address it head on. Clients would come for Reconnective Healing, but they would also ask what else they could do. When meditation came up, they frequently replied that they had already tried, but couldn't do it.
"The most common problem they shared was that they just couldn't stop their thoughts," Emerson explains. "But without realizing it, they were already meditating—they were aware of their thoughts. That space between thought and awareness is meditation."
As his web site explains, by noticing their thoughts, shown by their own description of the problem, they were aware of their thoughts as something separate from themselves. The problem is not that they can't meditate--they actually are meditating--but that their awareness is jumping right back to more thoughts--in fact, frustrating thoughts.
"Ten Meditation Tips for People who Can't Meditate," a four-page PDF available from the Kwan Yin Healing website, addresses exactly this problem, starting by eliminating the frustration by explaining what's happening, and then by offering different ways to widen that gap between thought and awareness. There is no cost for the publication, available for instant download access.
"Racing minds are fine," notes Emerson. "Just watch them race. 'Look at them go!' Don't stop them; just watch. In time, the thoughts will slow, but that's not the point—just watch. Just be aware of them, without judgment."
The Tips cover a range of approaches, including simply watching the breath to merely going for a walk. "When you find you're everywhere in your mind except your walk," Emerson explains, "Just notice and to back to paying attention to where you are and what you're doing—going for a walk. And you can always simply notice your breath—not control it, but just watch and notice."
The Tips emphasize the importance of a daily routine as well. From starting the morning with a 365-readings book to ending the day by releasing problems and conflicts one by one in the evening, that daily practice will build results over time, Emerson explains. "Much of what happens to us is only in our heads," he adds. "We're often arguing with people who aren't even there at the moment."
As the final tip notes, "Did you have a bad day? Or did you have a bad moment and milk it all day? That first negative incident doesn't need to set up the cascade for a day of such incidents. Just as easily, we could look for positive things to appreciate, allowing those things to cascade through the day."
Kwan Yin Healing provides in-person and distance healing to clients in the U.S. and Canada. Emerson is a Reconnective Healing practitioner, offering both Reconnective Healing and The Reconnection. He was trained through Dr. Eric Pearl's "The Reconnection" program. Emerson has been a hiker, healer, and musician for over 30 years. Information about his services is available on his web site. Kwan Yin Healing was founded in January 2012 to better service Tim Emerson's growing healing clientele. Other services include a free "Healing for Healers" forum and the "A Healer's Café" blog, featuring "A Wilderness Hike" series for October 2012.