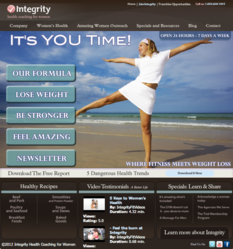 Integrity's unique formula's address each person's own challenges and then creates a "fitness prescription" that is custom tailored to the individual
Londonderry, New Hampshire (PRWEB) October 22, 2012
Integrity Health Coaching for Women has just re-released its updated website. The website introduces the concept "Where Fitness Meets Weight Loss" to the public. The purpose of the changes are to help potential prospects understand the importance of the combination of exercise and nutrition when trying to lose weight (fat).
The website now contains a section where you may obtain many types of healthy recipes that include beef, pork, chicken, fish, smoothies, soups and stews and various baked goods. There is also a free report that informs women of the five dangerous trends they face and how to avoid them.
The site further describes how Integrity's unique weight loss formulas address each person's own challenges and then creates a "fitness prescription" that is custom tailored to the individual. Just log onto the website or click on this link http://integrityfit.com/IntegrityMenu.pdf to see the different fitness programs offered at the facility.
If you are tired of struggling with your weight and believe there is a better way to get fit check out this website and see if Integrity Health Coaching for Women is right for you!