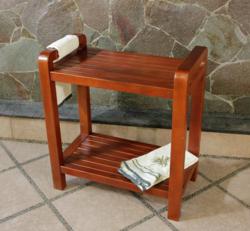 My husband has just received the pace maker procedure on October 9th. I will be able to give him a shower on October 23rd. This beautiful bench will make giving him a shower much easier.
Rockledge, FL (PRWEB) October 23, 2012
DecoTeak provides for the first time consumers with designer luxury teak shower benches that incorporate mobility features often found in home medical products. For over 30 years extensive research has documented how providing sturdy arms, and increased chair heights can decrease stress placed on hips, knees, joints, and muscles when transitioning between sitting and standing positions. Until now these design interventions have mainly been incorporated in plastic medical shower chairs made, but never in elegant solid teak shower benches and chairs.
These chairs will uniquely appeal to a demographic that likely has very modern contemporary bathrooms that might have been very costly. These typically include large walk-in showers, extensive use of granite, and expensive Italian tiles. To date customers that wanted active assist shower chairs were forced to purchase white plastic medical shower chairs. Customers that wanted elegant, solid teak designer shower chairs with active ergodynamic mobility features did not have any options, until now.
The initial market reaction to DecoTeak's shower benches and chairs has been very positive and enthusiastic. DecoTeak was thrilled and pleased to recognize that one of their initial orders came from a very famous and prominent real estate billionaire who ordered one bench for his house, and another for his penthouse in Manhattan.
DecoTeak is based in Rockledge, Florida and imports solid teak plantation wood products from Indonesia. It is run by the husband and wife team of Eric and Terri Gelman. For more information please contact Eric Gelman at (321) 704-1244