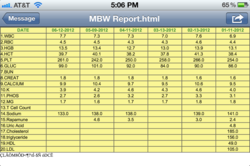 (PRWEB) October 23, 2012
Before, during and after treatment for breast cancer, the physician will order blood tests. These tests check to see whether the blood has normal amounts of various types of blood cells. The cancer and related treatments like chemotherapy and radiation can reduce important blood cell levels of important blood cells the body needs to function properly.
Blood cell counts that are measured:
If there is a low white blood cell count, there is a higher risk of getting an infection.
Along with measuring the number of red blood cells, a test will be done to measure the level of hemoglobin, an iron-rich protein found in red blood cells that carries oxygen from the lungs to the rest of the body. When there is a low hemoglobin levels, a condition called anemia can result.
Another test will measure the hematocrit value, which is the fraction of whole blood volume that consists of red blood cells.
Platelets, which are cells that help blood form clots to prevent bleeding.
Before treatment begins, blood cell counts may be used to determine whether there is another medical condition, such as anemia, that needs to be addressed first.
After treatment, blood tests are used to look for signs of recurrence and to monitor possible side effects from medication. Counts of white blood cells and platelets are taken until they are back to normal. Then, the doctor will probably order blood counts only occasionally, depending on the kind of treatment someone has and how you are feeling.
Tests may be done to measure the levels of liver enzymes to evaluate liver function, Levels of potassium, chloride, and urea nitrogen levels, which reflect the health of the liver and the kidneys during and after treatment.
Calcium levels, to determine bone and kidney health.

With MyBloodWorks App, one can monitor all blood levels. MyBloodWorks App will also monitor one's health in many other ways.
My Blood Works will track anyone's overall health. It's a user friendly App for those who want an App easy to maintain, yet it is a powerful tool toward tracking their health. My Blood Works will give a snapshot history of vitals and blood work. The more that is entered, the more the history, the more there is to compare.
Also within the App are:
Blood Pressure, pulse, weight and height with history and colorful graphs.
Blood work by date and history, with ability to compare blood tests side by side. Email an easy to read spreadsheet. See picture of spread sheet above.
A list of all your Medications, their dosage and strength.
Appointment page for Doctors appointment's or maybe the blood draw date.
Emergency phone numbers page, not mixed in with contacts, with call buttons.
Medical records screen for tracking breast cancer and medical events for filling out medical forms.
All information on My Blood works is stored in the device, and we do not have access, nor does a third party have access to this information. There is also the availability to email any screen shoot within My Blood Works.
Always consult a Physician. Understanding one's test results may seem difficult at first. However, they can help take charge of anybody's health and understand why the doctor prescribes certain tests and medicines. With practice over time, it becomes easier to understand these results.
My blood works App will always be on one's iPhone, that will always be close at hand, for easy data retrieval in seconds. It is important that everyone stay on top of their markers and MBW App will monitor anyone with ease. It is that simple. It's a high tech low touch App. Start monitoring yourself along with your physician to get the best treatment and track it's progress.