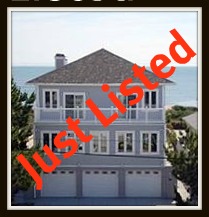 "We found the perfect Beach Home thanks to Dennis and his Just Listed Luxury Home Web Page" JA.
Virginia Beach, Va (PRWEB) October 22, 2012
Luxury homes and condos in Virginia Beach come in various sizes and locations. Finding the right luxury real estate is now painless using the new Just Listed Virginia Beach Luxury Homes and Condos search engine web page.
The new launch of this new innovative luxury real estate web page offers a one-stop destination and resource.
Just Listed Virginia Beach Real Estate Luxury Homes and Condos provides the ability to search homes and condos by price range, bedrooms, baths, schools, square feet, association fees, restrictions, and much more. Most all of these luxury home and condo listings will have extensive pictures, floor plans, and detailed property descriptions.
Just Listed Virginia Beach homes and condos offers the potential buyer the opportunity to sign-up to receive daily email notifications of new properties or use the RSS Feed available. Most luxury home and condos "viewers" can simply bookmark the page and return when convenient.
Purchasing a Virginia Beach Luxury home requires the buyer be informed and conduct due diligence.
Due diligence may require conducting recommended inspections and reviewing financing options.
Also, it is very important that the buyer considering a luxury home or condo consult a Buyer's Agent to represent their interests. The Buyer's Agent can provide financing alternatives, provide objective data about the area and other homes for sale, explain home owner association documents, negotiating expertise, solve issues that may arise with the seller or lender, coordinate inspections, provide periodic on-site visits and updates on the process (and pictures) if the buyer is out of town, and ensure that a smooth and problem free closing occurs.
If building luxury new construction it is important to remember In Virginia the builder's agent represents the Builder and their interests - not you.
Similar to the Virginia Beach Just Listed Site, the Just Listed Virginia Beach Real Estate Luxury Homes and Condos website is an easy, no-hassle way to browse communities and save "favorites" for future viewing. It is available now for immediate use.
Dennis Blackmore, REALTOR® with Creed Realty, Virginia Beach, VA provides Buyer and Selling Agent services to Chesapeake home and condo owners. He is a ready resource for all real estate matters.