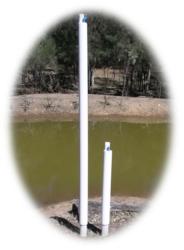 Santa Cruz , California (PRWEB) October 23, 2012
The Brumby Pump is a unique, refined airlift pump driven by compressed air and is particularly well suited for wells high in iron, sand, salts and sediment. There is no need for power at the pump site. The Brumby submersible pump is constructed entirely of specially selected, tough non-metallic, non-corroding materials. There are no troublesome electrical cables needed at the well site. No level instruments are required and the pump can run dry without damage to the pump.
The Brumby is air operated, making it very versatile, as a compressor can be driven by just about any source, such as electricity, petrol (gas), diesel, wind, the sun or even human powered by a bicycle design. The pump is designed to work with an optional electronic controller (where required) which overcomes traditional limitations of the air driven pump designs. Low pressure compressed air can be supplied from a great distance through low cost poly tubing, saving on costly installation of power cables.
The Brumby is easy to install and can be re-located to different sites by simply pulling it out by hand and moving it to a different location. No support cables are required. The pump is light and can just hang on the end of the delivery pipe - usually poly pipe, which is cheap and available in great rolled up lengths.
Tom Kress, President of Brumby Pumps says "As part of our service to our customers, we feel it is our obligation to share important information issues surrounding delivery and treatment of water that may affect the health and well being of our customers. We have teamed up with the Gerry Bulfin and the folks at Clean Water Systems, who are experts in the field of water treatment in order to provide our customers a more complete service and solutions to their water needs."
Clean Water Systems & Stores specializes in providing water treatment systems for treating well and bore hole water and ships its systems worldwide. The company provides custom easy-to-install water treatment systems and products in a large variety of different types and configurations including systems for removing iron, manganese, sand, odors, bacteria, turbidity and sediment. The systems are low cost, easy to ship and can be installed by any plumber or person familiar with most basic plumbing.
"We like the robust design of the Brumby Pump and are recommending it to our customers who may need these pumps for bore holes and other applications where the traditional electrical submersible pump is not feasible. We have customers in some areas where the water is so high in iron and sand that it affects the performance of the standard submersible pump", said Gerry Bulfin, CEO of Clean Water Systems & Stores Inc.
The Brumby Pump not only pumps water, it injects the water with a large quantity of air. This aeration of the water, combined with a storage tank design is an excellent low cost method of treating iron. The action of the air that is injected by the Brumby pump oxidizes the iron into a solid particle which can then be filtered by sand filters, cartridge filters or other types of iron filters. In most cases the water is pumped into a non-pressurized storage tank, where some of the iron can settle out, or an iron filter can be used to clarify the water.
"We offer various types of aeration systems for well water. The Brumby Pump allow sites that use bore hole and well water to efficiently aerate their well water as they pump so they don't need a secondary aeration system, which saves money," said Mr Bulfin.
For more information contact Brumby Pumps info@brumbypumps.com or Clean Water Store at
info@cleanwaterstore.com.