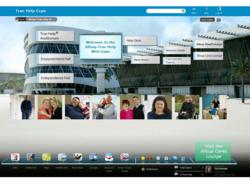 It is critical that the disability community perspective be present and active in public policy and discourse
Belleville, Ill. (PRWEB) October 22, 2012
Voting is a crucial American right, but it's one that too many people with disabilities miss out on for a number of reasons, including accessibility, transportation and lack of knowledge about alternative ways to vote. October is National Disability Awareness Month and with Election Day on Nov. 6 approaching, it is important that people with disabilities find ways to exercise their right to vote and make their voices heard, according to Allsup, a leading national Social Security disability representation company.
Allsup provides resources this election season at Vote.Allsup.com to help reduce voting barriers and promote active citizenship for people with disabilities.
"If Americans with disabilities don't vote, then their interests and needs won't be accurately represented," said Tai Venuti, Allsup's manager of Strategic Alliances. "Individuals with disabilities often face medical, social and financial challenges that people without disabilities don't ever consider. It is critical that the disability community perspective be present and active in public policy and discourse."
Voter Accessibility & Resources
Information is power, and Vote.Allsup.com has an interactive map of information and important dates related to voter registration and how to vote by absentee ballot.
Rules vary, but in seven states people can register on Election Day with proof of residency. They are Iowa, Maine, Minnesota, New Hampshire, Wisconsin, Wyoming and the District of Columbia.
"Issues of physical accessibility, for those who use wheelchairs or other assistive mobility devices, have garnered most of the spotlight, but it is important to remember other types of disabilities," Venuti said. "Blind and low-vision voters, for example, require accommodations at polling places to vote. I encourage anyone with any type of disability to contact his or her local voting assistance agency. Allsup provides links to each state's voting assistance agency at Vote.Allsup.com."

Some states, such as Alaska, offer voter assistance through their state elections office.
Nonprofit organizations often help voters get to the polls in their states. Vote.Allsup.com provides links to these agencies, organizations and resources by state.
Another resource for people with disabilities is their local campaign headquarters. They often have a pool of volunteers who are eager to transport people to the polls.
However, voting in person is not always possible. In some places, schools and churches are not fully accessible. People with disabilities are allowed to vote by absentee ballot.
"The deadline to request an absentee ballot, and the date your ballot must be received, varies from state to state," Venuti said. "You can go to Vote.Allsup.com to see the deadlines for your state."
Vote.Allsup.com also has up-to-date information about voter identification requirements for each state.
According to the National Conference of State Legislatures, voter ID legislation was introduced in 32 states in 2012. That includes new voter ID proposals in 14 states, proposals to strengthen existing voter ID laws in 10 states, and bills in 10 states to amend existing laws.
Voting information, as well as other resources for individuals with disabilities, are available at the Allsup True Help® Disability Web Expo, which can be accessed free, online through Dec. 26, 2012. Register today at WebExpo.Allsup.com.
ABOUT ALLSUP
Allsup is a nationwide provider of Social Security disability, Medicare and Medicare Secondary Payer compliance services for individuals, employers and insurance carriers. Founded in 1984, Allsup employs more than 800 professionals who deliver specialized services supporting people with disabilities and seniors so they may lead lives that are as financially secure and as healthy as possible. The company is based in Belleville, Ill., near St. Louis. For more information, go to http://www.Allsup.com or visit Allsup on Facebook at http://www.facebook.com/Allsupinc.
# # #