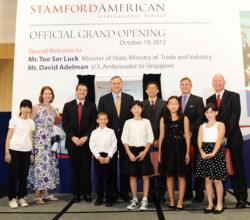 By linking the education of our students with the realities of the commercial world we are giving students the best possible start on their careers as entrepreneurs and business leaders.
Singapore, Singapore (PRWEB) October 22, 2012
In a world first for Singapore, Cognita announced at the official opening of the Stamford American International School (Stamford) Friday, October 19, 2012 that it is building a world class innovation center as part of the Phase II development of its new campus at Upper Serrangoon Road.
The Guest of Honor at the opening was Mr. Teo Ser Luck, Minister of State at the Ministry of Trade and Industry and the Mayor of the North East District of Singapore. The opening was attended by the US Ambassador to Singapore, Mr. David Adelman.
The Cognita Innovation Center at Stamford is unlike any facility or resource ever built in a secondary school. It is more than just a physical facility; it is a place of partnership between Stamford's students and the corporate sector, bridging the gap between theory and real world execution. It is a place where students and business leaders will come together to solve problems, generate ideas and create intellectual property.
Features and activities of Cognita's Innovation Center at Stamford include:

A fully fitted out and functioning trading floor where students will get to learn about the power of economics in the best possible way, by witnessing and participating in market transactions;
A center for entrepreneurship and incubation, in partnership with leading US Universities and venture capital firms, to develop the next 'big idea';
The ability to undertake research projects in partnership with local and international businesses. Companies will be asked to put real life problems before the students, so that their fresh and open perspectives can be applied to finding solutions;
The resources to develop an idea through to the point of registering and protecting the intellectual property;
Through the Cognita Global network and within the Singapore and international business communities, Stamford will invite the world's best business thinkers to teach the students through physical or virtual lectures;
Under the guidance of the teaching body and with the invaluable input of the corporate mentors, students will develop their business or technological ideas and test them in a robust environment that mimics the commercial world;
Where an idea has survived the analysis of both students and real world practitioners, the students will be encouraged to move to the next stage – the development and commercialization of the idea with partners and mentors ready to engage and guide students in their ambitions.
Mr. Brian Rogove, CEO Asia Cognita said: "The Innovation Center will enable students to acquire the skills and confidence they need to take their own ideas into the commercial world and make them successful."
"The Cognita Innovation Center at Stamford is a place where a student's dreams can become reality."
"By linking the education of our students with the realities of the commercial world we are giving students the best possible start on their careers as entrepreneurs and business leaders."
"This link with business demonstrates Stamford's commitment to bridging the gap between an education for its own sake, and an education that prepares students for entry into the real world," Mr. Rogove said.
Opening in 2014, Phase II will complete the construction of Stamford's 'super' school campus. At a cost of $300 million it is the largest Kindergarten to Year 12 education project in the region.
World Class Campus Features
In addition to the Cognita Innovation Center, the special features of the school include:
Singapore's first Interactive Learning Environment - Where teachers can give lectures from anywhere in the world
Technology integration - Kindergarten kids through to middle school and high school each have their own iPad for learning about their world, while older students each have their own MacBook
A Golfing Excellence Center complete with computerized swing analysis and putting greens, with tuition offered under the guidance of a golf pro
A canteen with restaurant quality, healthy, energy rich food created by Singapore's Celebrity Chef Emmanuel Stroobant
A 21st century Learning Resource and Media Center - up to date with the latest traditional as well as technological resources
State of the art science wing and computer laboratories
World-class sporting facilities - Two swimming pools, basketball courts, an outdoor field for American Football, track and football, plus an indoor gymnasium and commercial standard fitness center
Comprehensive art facilities - Dedicated spaces for art, drama, dance and music, including areas for exhibiting fine arts and hosting performances
Specially designed Early Years/Nursery facilities, with its enclosed secure playground
Indoor and outdoor meeting spaces, including student breakout areas
About Stamford
Stamford American International School (Stamford) is the new benchmark for excellence in international education in Singapore. With its experienced team of educators, cutting-edge facilities and rich cultural diversity, there is no better way to prepare students for a competitive and fast changing world.
Stamford's academic curriculum prepares students for entry into the world's top universities. Stamford is the first school in Singapore to offer students both the International Baccalaureate (IB) Diploma and the American Advanced Placement (AP) – giving students an international experience with an American foundation. Stamford also excels in the teaching of languages offering Mandarin and Spanish classes on a daily basis, beginning when students are as young as two years old.
Stamford has the most experienced and qualified team of educators at international schools in Singapore. Together with his senior leadership team, Superintendent, Mr. Malcolm Kay has helped more than 5,000 students enter prestigious universities including Oxford, Cambridge, Harvard, Yale and UCLA.
The faculty is one of the most highly qualified of any international school in the world: 55% have a Master's Degree including 100% of the Middle School teachers. 100% of the faculty is IB trained and more than 80% have international teaching experience.