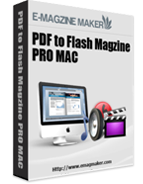 PDF to Flash Magazine Pro for Mac is designed to create more stunning and special digital magazine to meet the market demand.
(PRWEB) October 22, 2012
Recently, Emagmaker.com, a leading software provider, launched its new flipbook creator product, PDF to Flash Magazine Pro for Mac. This is a flipbook creator software to create page-flipping magazine from PDF and embed multi-media to flipping pages on Mac OS.
PDF to Flash Magazine Pro for Mac is designed specially for Mac platform users to convert Adobe PDF documents into stunning page-flipping flash magazines without any adobe professional skills. There are multiple built-in templates and themes within the PDF to Flash Magazine Pro for Mac for users to make an attractive flash book quickly. Customers can change the built-in setting features such as backgrounds color and image, control button, navigation bar, and book page for better displaying.
Kitty Ouyang, CEO of Emagmaker.com, said, "E-book has been popular these years. But people are not satisfied with an ordinary digital magazine online, because a common e-book can only rely on these monotonous way to switch to the next page, and readers cannot find the feeling of read a real book. In other words, they need a better visual experience. As a result, magazine maker, PDF to Flash Magazine Pro for Mac is designed to create more stunning and special digital magazine to meet the market demand."
What's new about PDF to Flash Magazine Pro for Mac?
Google Analytics Integration
With the built-in Google Analytics function, users can connect, measure and analyze visiting date of the published catalog magazine. They can better understand and optimize the web usage, and make web catalogs more attractive and effective. It is a secret weapon to increase the sales with the Google Analytics function.
SEO Friendly
All the created flash flip pages are SEO friendly. It allows users to optimize the flash flip book, because the "meta" section can be edited for the output flash book. All the texts from PDF documents can be indexed by search engines, such as Google, Yahoo, Bing, etc.
Easy For Sharing With Social Networks
With PDF to Flash Magazine Pro for Mac, it is so easy to share the flash flip book with your customer or friends. Just click the social network icons on the flash book, then you can share the flash book to Facebook, Twitter, LinkedIn, Digg and other social sites to others. Moreover, it also works via Email.
Kitty said, "PDF to Flash Magazine Pro is a powerful flash page flipping maker to create flash flipping book publications from PDF, and it is a great magazine maker for you to make digital publications, like digital magazine, flip e-catalog, and more. You can embed sounds, photos, videos, hyperlinks, and YouTube video object to the flash flipping book very easily. So, your users can view flipping Flash digital magazines from any computer or mobile device (iPhone, iPad, etc.) in a simple way."
James, a loyal user of flipbook creator, said, "I love this software because it's very user-friendly and cost effective, and can help create many interesting flipbooks. The most important aspect is its function of Sharing for Social Networks. I can share my ideas with my friends by some clicks of mouse, and it can really give me a sense of accomplishment."
For the prospect of PDF to Flash Magazine Pro for Mac, Kitty said, " PDF to Flash Magazine Pro for Mac offers as a complete e-publishing solution to publishers and corporations. It enables publishers and corporations to create and publish realistic page-flipping digital publications ("FlipBooks") easily with just a few mouse clicks. We believe we can bring more surprise and convenience to our customers, like editors, publishers, and Flash lovers."
About EMagMaker.com
Established in 2009, EMagMaker.com is leading supplier of Flash digital publishing tools to innovative and cost-effective business software and PC utility tools from China. EMagMaker.com is famous for its low-cost and handy programs for editors and publishers to easily produce professional page-flipping Flash Books.
For more information, please visit http://www.EMagMaker.com