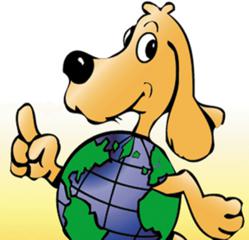 ....The Earth Dog Story is featured on Apple iTunes and Amazon Kindle....
Bethesda, Md (PRWEB) October 22, 2012
Apple plans to unveil its new, smaller tablet the iPad Mini on Tuesday, according to reports, a move that is sure to fuel sales of portable devices just in time for the start of the holiday shopping season, while it gives children's e-book consumers more cutting-edge ways to access recent releases including The Earth Dog Story.
The expected October 23 iPad Mini launch event is planned for the California Theater in San Jose, although Apple has not confirmed that the iPad Mini is to be debuted at the event, and it should appear in stores a week and a half later, on November 2. According to reports, the iPad Mini will have a 7.85-inch screen and an A5 processor, but, in order to keep the cost down, the device will not feature the high-resolution retina display found in the most current iPad. The price is expected to be about $299.
Apple's timing likely is designed to upstage competitor Microsoft, as it plans to debut its Windows 8 and Windows Phone 8, as well as answer recent smaller gadget releases by rival firms, including Amazon, Barnes and Noble, and Google, which a few months ago launched its Google Nexus 7 tablet. Rumors of Apple's iPad Mini plans started just weeks after Barnes and Noble launched its Nook line of tablets, while in early September Amazon unveiled its new Kindle Fire tablets.
The smaller, cheaper iPad Mini is the most anticipated new gadget of the holiday season and will fuel competition in the tablet market with the other new models Kindle Fire HD, Nook HD, Nexus 7 and Kindle Fire – all popular e-reader devices. Analysts expect the iPad Mini will be a big seller for Apple, with the seven-inch diagonal screen, two inches fewer than the iPad, making it easier to carry in a purse or coat pocket.
The Earth Dog Story e-book is featured on Apple iTunes and Amazon Kindle. Young readers are turning to e-books in record numbers, and e-book readership now surpasses that of traditional books, according to reports.
Environmental superhero Earth Dog educates young people around the world about environmental issues affecting their planet. He teaches problem-solving skills through understanding and cooperation to students for whom the environment is a top concern.
The Earth Dog Story was first published as a storybook in 1992, then in 1996 in cooperation with the U.S. Department of Energy as a part of its Environmental Out Reach Program with Weekly Reader. Now, the popular children's environmental superhero is making his comeback in app and e-book format with auto-narration to appeal to children of all ages. Earth Dog® became available as an app in iTunes and as an e-book, titled The Earth Dog Story, just in time for Earth Day 2012. A new Earth Dog Store is currently under development.
For more information, readers should visit the new Earth Dog website at Earthdog.org or The Earth Dog Story at Earthdogstory.com.