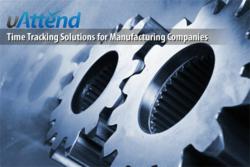 uAttend's biometric time clock paired with our innovative time tracking software is the perfect workforce management solution for manufacturing companies
Carlsbad, California (Oct. 2012) (PRWEB) October 23, 2012
uAttend, the leading provider of fingerprint time clocks and workforce management systems, is offering customized solutions for manufacturing companies to help them meet a number of industry-wide time and attendance requirements.
Employee time and attendance management is seldom straightforward, regardless of the industry. However, with large workforces and irregular shift hours, few companies face as many challenges as manufacturers. Fortunately, these challenges can be addressed with uAttend's automated time clocks with biometric features, and the company's customizable time and attendance software.
"A uAttend biometric time clock paired with our innovative payroll software is the perfect workforce management solution for manufacturing companies," said Dawn Berry, marketing manager at uAttend. "When you're talking about large organizations that have hundreds of employees, you need an easy way to monitor and manage attendance. What better way than with biometrics that ensure accountability and eliminate buddy punching? Manufacturing companies can also have a fluctuating number of employees, so the one size fits all time and attendance solutions don't work as well. This is why more and more manufacturers are turning to uAttend. Not only are we the most affordable and reliable system available, but we do not require contracts and our systems can be scaled up or down as needed on a monthly basis. Plus, our time tracking systems integrate with nearly any existing accounting software which streamlines the payroll process and saves hours of intensive labor for large organizations."
uAttend's cloud-based software ensures the accurate reconciliation between payroll and time and attendance data. All information is marked in real time and stored securely in the cloud. This helps maintain labor law compliance and prevent FLSA wage violation claims, which can be common for manufacturing companies. uAttend solutions also help improve the efficiency of a company by giving insight into employee performance. The system provides specialized reporting features that allow you to cross-reference work hours and productivity levels. In addition, supervisors can set automatic alerts to be informed if and when an employee is absent or late, and can then plan accordingly for the shift.
While the basics of time and attendance management are universal, it is clear that the manufacturing industry has unique needs in which viable web based time tracking software must be able to address. uAttend's fingerprint time clocks and online software are playing a vital role for manufacturing companies that are aiming to improve accuracy, streamline payroll operations, and control employee work hours.
If you would like more information about uAttend, or would like to order uAttend products and services, please call 800-518-8925 or visit the corporate website at http://www.uattend.com.
The uAttend™ Employee Management System is made by ProcessingPoint, Inc., and is located at 2796 Loker Ave., Suite 111, Carlsbad, CA 92010.