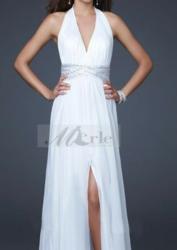 Look Great at a Family Party with Family Celebration Dresses!
(PRWEB) October 22, 2012
Recently, Merle Dress is conducting a Family Celebration Dresses promotion to acknowledge all customers. Since Merle Dress launched its family celebration dresses on June 28, the USA market response has been unbelievable good about this new dress. According to the Merle Dress marketing department, family celebration dresses and military ball gowns have been the most shining stars in all Merle Dress products in the last two months.
"At a family party, especially for teens and young adults, it's a great opportunity to show your extended family how much you've grown and how mature you've become. If you dress tastefully while still showing your true personality, you might be surprised at the change in the way your family treats you. The family celebration dresses at Merle Dress.com are specially designed for a formal family function. We have great collections for your choices," said, Donnie Terry, CEO of MerleDress.com.
"We have been one of the top suppliers of wedding dresses and prom dresses, and we are sending out Family celebration dresses coupons for sale now. Formal dresses and military ball gowns may be good business stimulators inside our business. I trust our product line, and we back anything we sell with a lifetime guarantee," continued Donnie Terry.
Donnie Terry added, "At a family event, you do want to show some degree of respect for yourself and your family, while at the same time, you also want to be comfortable in your own skin. Our family celebration dresses must be a good choice!"
As for how to choose family celebration dresses Ms. Code, the marketing manager of Merle Dress, said, "Family Celebration Dresses need to work with your skin tone. As a rule, the paler your complexion, the warmer you should go color-wise. English roses will suit champagnes, creams and golds, while very dark skin can take pure white. If you need more choices and suggestions, please visit our website."
About Merle Dress
MerleDress.com is the leading supplier of wedding dresses, prom dresses, graduation dresses, and wedding dress accessories from China. Merle Dress started with a basic idea of helping women dress better and is now famous for its outstanding quality in fabric, materials, and fit without the inconvenience and costs of traditional bridal boutiques and retailers.
For more about Merle Dress, please visit: http://www.merledress.com/