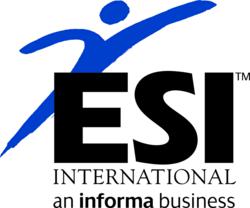 Eighty percent of learning happens informally.
London, UK (PRWEB UK) 23 October 2012
ESI International, a subsidiary of Informa plc (LSE:INF) and the world's leading project management training company, today announced the launch of a project-focused, Web-based, collaborative learning community – Skillsharks ™. Skillsharks utilises familiar social mechanisms to provide an environment that includes ESI project management content, access to ESI experts, and the ability to ask and answer questions within a forum where users can share knowledge and know-how. The community is designed to be an engaging, business-focused environment to help project professionals quickly find information, learn on the fly and get results.
"Today's professionals want access to diverse knowledge flows and the right tools for a project when they really need them," said ESI Vice President, Global Learning, Technology & Delivery, Patrice Collins. "Project-focused professionals want to keep learning and bettering their performance in ways that are personally motivating, minimally invasive, professionally relevant, social, and integrated with work projects for maximum relevance."
Upon entering the Skillsharks community, members can identify the learning path they are interested in:

Better Projects: How to deliver a better project from start to finish
Handle Projects: How to handle the risks inherent to every project and get your projects back on track
Lead Projects: How to be an effective project leader, from communication to managing change
Earn Credentials: Learn about project management credentials, tips on the application processes and exam prep strategies
Ugly Projects: Share ugly project stories and help others protect their projects from getting ugly
Skillsharks members can also browse Skillsharks content and/or ask questions to benefit from the collective knowledge of other Skillsharks users. ESI offers a free subscription for 30 days access using the coupon code SS304FREE.
"Eighty percent of learning happens informally," said Collins. "To stay competitive professionals must look beyond traditional classroom and e-learning opportunities and find ways to improve their skills at the moment of need, on the job."
In conjunction with the launch of Skillsharks, ESI has released a ViewPoint article that addresses the importance and relevance of collaborative learning and how it can benefit organisations of all sizes. You can download the paper, "Collaborative Learning in a Project Environment: Get all the brains in the game for faster learning and better results".
You can find more information on Skillsharks.
About ESI International
ESI, a subsidiary of Informa plc (LSE:INF), is a global project-focused training company, helping people around the world improve the way they manage projects, contracts, requirements and vendors through innovative training in project management training, business analysis training, Agile training and contract management training. In addition to ESI's more than 100 courses delivered in more than a dozen languages at hundreds of locations worldwide, ESI offers several certificate programmes through our educational partner, The George Washington University in Washington, D.C. Founded in 1981, ESI's worldwide headquarters are in Arlington, Va., USA. To date, ESI's programmes have benefited more than 1.35 million professionals worldwide. For more information visit http://www.esi-intl.co.uk.