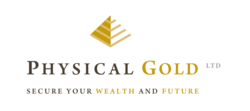 Bullion bars are the only type of gold that is qualified for a pension.
(PRWEB UK) 22 October 2012
Gold prices were spurred higher once again on Monday, as investors took advantage of lower prices last week.
As interest in gold investment grows, Physical Gold has reported more enquiries about what type of gold to invest in. With gold bullion bars one of the most famous forms of gold investment, they explain the details:
1. Gold bullion bars are available in many different sizes, with both metric and imperial weights. The most common sizes seen are between 1g to 12.5kg. There are thousands of different producers of bullion bars with the top refiners members of the London Bullion Market Association which provides accreditation and guarantee of quality. The best known manufacturers are Credit Suisse, Johnson Matthey, Pamp Suisse and Umicore. Bars are 24Karat, which is virtually pure gold at 99.9% pure.
2. The main advantage of gold bullion bars is that they supply the most actual gold for money as their value solely consists of their gold content. Gold bullion bars are the most efficient for melting down for jewellery. Bars generally trade at a lower premium to gold coins, with the premium falling as the size of the bar increases.
Because of their high gold content, bullion bars can be easily tarnished which drives down the price; therefore they must be kept in a specialist depository.
3. It is best to choose a well known manufacturer when buying bullion bars as this makes the gold easier to sell on. It may also be more beneficial to invest in smaller size bars as while larger bars can save a couple of percent off the price, it cannot be broken up if only some of it is being cashed.
4. Bullion bars are the only type of gold that is qualified for a pension. There is also up to 40% discount off the price of bars through tax relief when bought as part of a pension. Any profit made from a gold bullion bar that is not part of a pension is taxable.
Physical Gold Ltd is a leading UK gold dealer, helping investors diversify their portfolios with innovative investment solutions. Renowned for their ground breaking products such as the Sipp gold and Gold Accumulation Account, the firm specialise in providing customers with tailored assistance in sourcing the best gold for their personal requirements. Based in London, the team are BNTA accredited and have an unrivalled knowledge of the gold market as well as an exceptional understanding of the general financial markets.