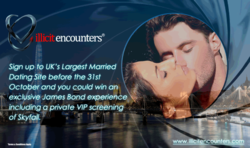 (PRWEB UK) 22 October 2012
The UK's leading extra-marital dating site IllicitEncounters.com carried out research to discover which on screen James Bond is the biggest ladies man, with Roger Moore coming up top.
The actor who starred in seven Bond films found his character bedded a total of 19 beauties throughout his time playing 007. Sean Connery's Bond followed Moore, sleeping with 15 Bond Girls throughout his six films playing the lead. Pierce Brosnan took third place for biggest Bond ladies man where his 007 enjoyed nine gorgeous women during his four movies.
James Bond is well known as a lothario, sleeping with beautiful women in the most passionate, luxurious and sometimes amusing scenarios. Sean Connery's Bond even enjoys an implied ménage à trois with two gypsy women. In fact Bond is seen to sleep with an astonishing 52 women over the course of the 22 completed films, on average bedding 2.36 stunning women per film. Bond's 52 women reveal that the average British man falls short; according to Health Survey for the UK in 2011 men average 9.3 sexual partners.
Daniel Craig has, so far, had the least action between the sheets playing Bond – he is seen to be intimate with only two women on screen in his two films - followed by George Lazenby and then Timothy Dalton. However, not only does Craig have the opportunity to raise his number of sexual conquests as Bond in the highly awaited SkyFall, he also comes top for the most desirable James Bond.
IllicitEncounters.com carried out a survey of its members to find out which actor who has played 007 and which Bond Girl they would most like to have an affair with. Daniel Craig was the clear winner cementing his title as the "hottest Bond". Additionally Craig's Bond has bedded both Eva Green and Gemma Arterton – two of the Bond Girls cheating men would most like to have an affair with.
Spokesperson for IllicitEncounters.com Mike Taylor commented: "Every man wants to play Bond and every woman wants to be with him. It's interesting to discover that the most successful Bond in the bedroom, Roger Moore, doesn't come top with the ladies in terms of desirability, he actually comes fourth.
To coincide with the release of the new Bond film, we're offering two lucky winners a once in a lifetime experience to play Bond and Bond Girl! An exclusive 007 themed blind-date including an opulent 3 course meal, casino, cocktails, high speed boat chase up the Thames followed by a private VIP screening of Skyfall. Logon to find out more."
For more information about the survey and on Illicit Encounters please contact:
Mike Taylor
PressPR(at)illicitEncounters(dot)co(dot)uk