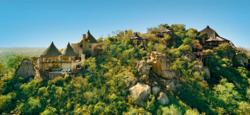 luxury escapes that bear a frightful twist
London (PRWEB) October 24, 2012
Put on a brave face with a stay at the Ulusaba Private Game Reserve; Ulusaba, meaning 'Place of Little Fear' provides the ultimate tracking destination. Whether going on a walking Safari or game drive you'll be in the heart of the experience staying in the exclusive Sabi Sand Game Reserve, bordering Kruger National Park- the perfect place for spotting the 'Big Five'! Immersed in the gifts of nature; stays can be shared between the Rock Lodge perched high on the summit of a rocky hill and Safari Lodge which is built tree house style inclusive of swing bridges and walkways. After a day with experienced trackers and game rangers, truly relax by the pool, play tennis on a floodlit court, or let go of reality in soothing surroundings at the Aroma Boma Spa.
Aldourie Castle and Estate, Loch Ness
Go on a hunt for the most infamous Scottish monster! The Loch Ness Monster or more affectionately known as Nessie is a large dinosaur-like monster which there has reportedly been sightings of for over 100 years! With over 21 square miles of water and depths of over 800 feet, there are a lot of places for dear Nessie to hide! Make it a truly memorable adventure by staying on the south shore of Loch Ness itself at the amazing Aldourie Castle. Renowned for its baronial turrets and towers this fairy-tale location dates back to the 17th century and is finished to the highest standards. Accommodating 28 people within 14 stunning bedrooms that all look out to remarkable views of Loch Ness or the surrounding parkland, the castle also boasts a drawing room, well stocked library, a hall for music and dance, a snug sitting room, a billiards room with full size table and plasma TV and a dining room. Comfortably cook in the well equipped kitchen or enjoy life's luxuries and have a personal cook cater to your needs.
The city of romance has a terrifying underground secret, The Catacombs of Paris; which is a vast network of skeleton lined caverns beneath the streets of Paris! Anyone who spends a day at the Catacombs will need somewhere exceedingly plush and comfortable to lay their head to send away those night terrors. Head to Le Meurice, the first Parisian palace, which sits in the heart of the city and is a short walk from most famous landmarks including the Louvre. Le Meurice is a member of the Dorchester collection and features 60 beautifully appointed rooms decorated in a style redolent of Louis XVI. An array of choices to delight the palate including creations by three Michelin star Chef, Yannick Alléno, be thoroughly spoiled with a stay at Le Meurice and hopefully the terrors of the day will be long forgotten…Careful though, each room is soundproofed so no one will hear your screams…
Embedded in the primitive Maya tropical forest, alongside the sands of the Riviera Maya is the truly intimate Riviera Maya Viceroy. Consisting of 41 villas that all feature private patios, plunge pools and terraces, their locations also range from oceanfront and ocean view to lush jungle gardens. Hidden in a small village of Playa Xcalacoco, there are extensive activities on offer from water sports to spa treatments or explore the area with trips to ancient cities and ruins. Halloween time marks Dia de Muertes (Day of the Dead celebration) where Mexicans remember and honour their deceased loved ones and the belief is that the spirits will return to Earth for one day of the year to be with their families. Although it may sound gloomy this in fact a time of celebration and great festivities and customs to witness.
Elegance and luxury set in the heart of Toronto's bustling financial and performing arts district. The Ritz-Carlton, Toronto features 267 elegantly appointed guest rooms and suites that offer magnificent city or lake views from floor to ceiling windows. A trip to the impeccable Spa My Blend by Clarins is a must, and will provide a heavenly treat to relax and soothe after a trip to the Niagara Falls to experience the fright of your life! Venture to The Screaming Tunnel located beneath the railway track that connects Niagara Falls to Toronto and New York. Legend has it that a young girl died in a blaze, with variants of how it happened, light a match if you dare within the tunnel's recesses which is said to produce the sound of the young girl's dying screams!!
This stunning urban holiday location is in fact home to one of the most haunted beaches in the world! Changi Beach was home to an immense amount of innocent killings of Chinese soldiers. Changi Beach now bears history of reports of high paranormal activity, findings of headless bodies and the sounds of weeping and screams filling the air! Be dared to take a leisurely stroll down this beach at night! Head into the city and to the marina bay and shake off that chill in your spine at The Fullerton Bay Hotel. The stylish new-built is named one of the world's top new hotels by Conde Nast Traveller Hot List 2011, Travel + Leisure It List 2011 and Business Traveller 2012. Glamorous rooms with exquisite interior designs and the latest in-room technology make a stay here not only comfortably but convenient. Take a dip in the stunning rooftop outdoor pool, stay active in the gym that features an outdoor deck for stretching and enjoying skyline views and pick from a trio of culinary delights.
For all media enquiries please contact Jenny Graham on E: Jenny(at)Quintessentiallytravel(dot)com / P: +44 (0)845 2246 915 ext 6678
About the Company:
Quintessentially Travel is a sister business of Quintessentially, the leading international luxury lifestyle company. Launched in 2000 as a small London based concierge service, Quintessentially (http://www.quintessentially.com) has experienced a complete transformation in a decade, and currently have offices in over 64 cities around the world. The service provided to their discerning and HNW members is proactive and personalised, catering to every member's need, from last minute restaurant bookings, travel arrangements, and access to private parties, as well as fulfilling every unusual request and successfully connecting businesses all over the world. Quintessentially can offer access to the inaccessible and can make the seemingly impossible, possible. In a bid to ensure only the very best service is delivered across the luxury market, Quintessentially has also launched 32 luxury sister businesses comprised of experts in every luxury division. This includes real estate, travel, luxury retail, wine, art, flowers, private aviation and more (http://www.quintessentiallygroup.com).