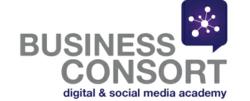 Over 50 free social media and digital marketing resources for businesses
(PRWEB UK) 23 October 2012
Business Consort - The Digital and Social Media Academy has just launched their newly designed blog with over 50 free social and digital marketing articles and resource to help business succeed online.
The newly designed blog has a vast array of content across all areas of social and digital marketing from blogging to online advertising.
Many businesses are curious about online marketing, but don't understand how it can directly increase their business.
Many of them are seeing less return from their advertisements in traditional media like The Yellow Pages, newspapers and direct mailing campaigns, and are looking to explore new ways of expanding their market share.
The advantages of online marketing is often a more cost-effective solution for businesses.
10 Advantages of Online Marketing Vs Traditional Media
Number one - Online marketing brings Reduced Cost - The starting cost of online marketing is only a fraction of the thousands of £'s that Yellow Pages, television and radio ads cost.
For example, you can get a free listing on Google Local that will be just as effective as a costly online Yellow Pages ad. In addition, while traditional ads may only run for a short time, a search engine optimization campaign can deliver long-term results.
You can also save money with online Pay-Per-Click advertising where it is easy to experiment with small ad volumes until you perfect your strategy and then expand your marketing budget when you are assured of a positive sales return.
You can read the full article on their blog - 10 advantages of online advertising versus traditional media
Dawn McGruer FRSA who is the Director and Digital and Social Media Specialist at Business Consort has brought her extensive expertise and knowledge to the blog as the key author and specialist in this field.
She has been running online businesses for over 10 years and Business Consort is a prime example of how effective social media and digital marketing strategies can work as well as providing a business with a global presence.
Business Consort has over 2 million subscribers worldwide and has a social network to envy with over 10,000 Linked in direct connections Dawn is a key influencer in the digital world.
In addition to the Business Consort Blog, Dawn McGruer who has also been invited to join the Royal Society of Arts, Manufacture and Commerce because of her achievements in social and digital marketing.
Business Consort has a host of accolades to mention but if a business is looking to develop their online visibility and presence then as a Chartered Institute of Marketing accredited study centre any delegate taking their courses can be assured of their capabilities.
Check out the Business Consort Blog or Visit their website.