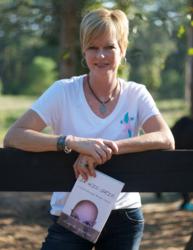 My focus the past few days has been all about me and my need to control the things around me. Is it because I feel so out of control with everything else lately? Am I already hitting a lull in the faith walk through this time in the wilderness?
The Woodlands, Texas (PRWEB) October 23, 2012
Author and Breast Cancer survivor Amy K. Hauser announces the release of 'In His Grip' and the launch of innovative new recovery program.
"Bald and boob-less," then 42-year-old Amy Hauser was forced to truly let go of her need to be, or at least feel, in control when Breast Cancer invaded her life.
2009: With a conscious decision, Amy and her husband Tom left Corporate America, their 5,000+ square foot home in Iowa and all the trappings of "success" to begin a more humble approach to life in Texas. She was a self-described work-in-progress, reshaping her life-long effort to project the image of the perfect mom managing her perfect family in her perfect house.
"I tried to control everything – my kids wore the right clothes, played the right sports and we went to the right parties. Underneath, my life was far from perfect – even before the cancer, I was struggling with dark times in my life and in my marriage," says Amy.
2010: Diagnosed with Invasive Ductal Carcinoma (Breast Cancer) after finding a walnut-sized lump, only days after her annual breast exam, Amy's attempt at stabilizing her life was now spiraling out of control in another direction. A biopsy showed the cancer had metastasized into her lymph nodes.
The cancer diagnosis finally gave (she might say 'forced') her a compelling enough reason, as well as the time, to seriously focus on the internal realities rather than the external image.
"It was a daily and gradual surrender of control. Often, I would re-grab things I thought I had already let go of and had to let them go again, and again," she adds.
Amy began to blog about her cancer journey - very honestly and humorously chronicling her and her families' experience. The image of the perfect family was gone. Instead it was the real picture of angst, weakness, panic, peace, confusion, faith, laughter and tears.
Amy found her faith growing and her marriage healing during this time. Now, her friends and family, and even Amy, had an authentic picture of who she really was and is.
Fearful she would forget her hard-earned life and spiritual lessons when she got back to "normal," Amy turned the blog into her first book, In His Grip, which compiles her stories, guest entries and very personal and honest reflections after completing treatments and surgeries.
Amy reflects that everyone has options when facing life's challenges, but recognizes that she couldn't have traveled this far without her faith. "I am an ordinary woman and this was an ordinary trial – there are people with worse trials, but I was walking with an extraordinary God."
Her book is just one part of Amy's mission in sharing what she's learned. She and her husband Tom have founded Made For More ministries (M4M), creating numerous outreach programs, including Horses.Healing.Hope. - an innovative emotional and spiritual recovery program for breast cancer survivors with successful pilots in the north Houston area.
For more about In His Grip, Made For More ministries, Horses.Healing.Hope. and other outreach programs, visit http://www.made4moreministries.com. In His Grip is available at all major online booksellers including Westbow Press, Amazon & Christianbook.com. Amy and Tom continue to blog on the ministry website.