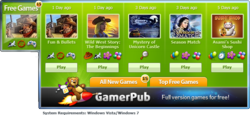 (PRWEB) October 23, 2012
GamerPub Gadget allows users to choose the latest games from Gamerpub.com right from your desktop and download them for free. There is no need to surf through the games portal for the latest games now – this gadget helps you find and download the best ones. It grants instant access to free full version games.
GamerPub Gadget has eye-catching design with exuberant graphics. The gadget provides users with the latest 5 games from Gamerpub, as well as links to all new games and top free games on the entertainment portal. Also gamers can easily find out what category a particular game is allocated into – stylish icons reflect all popular game categories.
The gadget has successfully passed all engineering and security tests and has effectively launched.
This is the next step for GamesPub Ltd. on its way to providing players high-quality content and efficient user-friendly services, ultimately making http://www.gamerpub.com a comfortable platform for playing free full version games online and on PC.
GamesPub Ltd warmly welcomes all game addicts and followers to discuss this new feature on Facebook, Twitter, and Google+
About the company:
GamesPub Ltd is a fast-developing publisher of free casual games. The company is specifically devoted to providing online and downloadable full version games for free and at the same time is open to collaboration with other game developers and publishers. Casual games on the company's website are notable for addicting gameplay, colorful graphics, and unique features. They are free and safe to play.