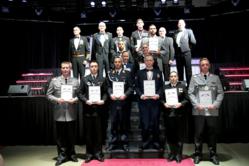 Thank you for your outstanding service to your nation and to the principles of freedom. All here tonight are free to enjoy their lives in peace because of your personal sacrifice and that of your brothers and sisters in arms.
Arlington, Va (PRWEB) October 22, 2012
In an evening steeped in tradition and honor, USO Europe celebrated the longstanding history of cooperation between the U.S. and German armed forces at the 20th annual USO Europe Service Salute. Armed Forces Network's Jerry Cormier served as the Master of Ceremonies for the event, welcoming the more than 300 esteemed guests who among them included U.S. and German dignitaries, service members, USO volunteers and supporters.
The Dual Bay Hanger, home to the C-130J, at Ramstein Air Base in Germany, played host for the event after USO volunteers transformed the space into an elegant reception site. USO Europe Regional Vice-President, Walt Murren, recognized the many U.S. and European dignitaries in attendance including Ravi Candadai, representing the United States Consulate General, Frankfurt, Chief Master Sergeant Todd Small, Senior Enlisted Leader for the Supreme Headquarters Allied Powers Europe, Fleet Master Chief Roy D. Maddocks, Jr., Senior Enlisted Leader for the United States European Command, Herrn Professor Dr. Hans-Jürgen Seimetz, President of the District of Government of Rheinhessen and Pfalz. Murren also recognized the 12 honorees for their dedication and service to nation.
"Thank you for your outstanding service to your nation and to the principles of freedom," said Walt Murren, Regional Vice President, USO Europe. "All here tonight are free to enjoy their lives in peace because of your personal sacrifice and that of your brothers and sisters in arms. Thank you from our heart, all of us here at USO, thank you."
Lieutenant General Mark P. Hertling of the U.S. Army and General Major Carsten Jacobson representing the German armed forces, saluted the two female and ten male service member honorees. The junior enlisted service members being honored were selected by the senior enlisted leadership of their respective commands to receive the prestigious award. From network administrators, to an anti-submarine warfare technician, the honorees epitomize words like honor, duty and dedication. General Hertling also took a moment to recognize the USO for their support of our brave men and women.
"In the 37 years that I have been a soldier I have been comforted by the USO," said General Mark P. Hertling, Commander, United States Army in Europe. "As I sought a moment of peace, a wish for a reminder of home, USO was there with small peaceful spaces or with massive amounts of entertainers and stars. As I made connections in airports the USO was there, usually with smiling volunteers, that come from the local community that spend a few hours at the airport just to greet our military. When I was wounded in combat and I was in a hospital, USO was there, giving me the courage and strength and helping me generate a will to recover."
TOPS IN BLUE, an all active duty United States Air Force special unit composed of 35 to 40 vocalists, musicians, and dancers, provided the evening's entertainment. The group performed renditions of popular songs from Michael Jackson and Adele. TOPS IN BLUE concluded the evening with rendition of "Let Freedom Ring" to honor those brave service men and women who made the ultimate sacrifice.
United States Service Member Honorees
Corporal Charles M. Williams, U.S. Marine Corps Forces (MARFOREUR)
Senior Airman Shannon E. White, U.S. Air Forces in Europe (USAFE)
Specialist Antonio M. King, U.S. Army Africa (USARAF)
Specialist Alexander D. Johnson, U.S. Special Operations Command Europe (SOCEUR)
Specialist Francisco Lee Flores, U.S. Army Europe (USAREUR)
Seaman Kara Leone DiNicola, U.S. Coast Guard
Aerographer's Mate Airmen Kylie J. Marty, U.S. Naval Forces Europe (USNAVEUR)
German Service Member Honorees:
Oberstabsgefreiter Benjamin Hüttemann, German Army
OberStabsgefreiter Markus Werda, German Joint Support Service
Hauptgefreiter Ümit Emre Kaptan, German Air Force
Stabsgefreiter Torsten Hampe, German Joint Medical Service
Obermaat Martin Steinkraus, German Navy
Click here for event photos.
About the USO
The USO (United Service Organizations) lifts the spirits of America's troops and their families millions of times each year at hundreds of places worldwide. We provide a touch of home through centers at airports and military bases in the U.S. and abroad, top quality entertainment and innovative programs and services. We also provide critical support to those who need us most, including forward-deployed troops, military families, wounded warriors and their families and the families of the fallen.
The USO is a private, nonprofit organization, not a government agency. All of our programs and services are made possible by the American people, support of our corporate partners and the dedication of our volunteers and staff. In addition to individual donors and corporate sponsors, the USO is supported by President's Circle Partners: American Airlines, AT&T, Clear Channel, The Coca-Cola Company, jcpenney, Kangaroo Express, Kroger, Lowe's, Northrop Grumman Corporation, Procter & Gamble, and TriWest Healthcare Alliance and Worldwide Strategic Partners: BAE Systems, The Boeing Company, Lockheed Martin, Microsoft Corporation and TKS Telepost Kabel-Service Kaiserslautern GmbH & Co. KG. We are also supported through the United Way and Combined Federal Campaign (CFC-11381). To join us in this patriotic mission, and to learn more about the USO, please visit uso.org.