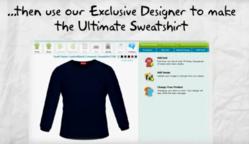 We have a great selection of full-zip sweatshirts and hoodies...
Hilton Head Island, SC (PRWEB) October 23, 2012
Acclaimed online custom shirt printing store ShirtMagic has recently started offering a wide range of designs, specifically for companies looking to create customized company uniforms without spending a fortune. The popular online store is a trusted resource for people looking to design their own custom t-shirts or sweatshirts, etc. instead of wearing the same old design and styles available on the market. These custom T shirts and sweatshirts are already being used by many companies as the uniform for their staffs. Apart from using the in house designs of the company, these uniforms can also be created by applying own ideas. The companies are only required to upload your logo, and everything else is done by ShirtMagic.
Office uniforms are a great leveler and promote a sense of equality amongst the workers. Uniforms are extremely important to prevent fashion divide in a workplace and brings more professionalism within the organization. There is no shortage of uniform manufacturers in the market. However, the cost of buying a readymade uniform is much higher than having one designed and printed in ShirtMagic. Moreover, most of these companies only offer shirts. ShirtMagic provides them the option to design similar sweatshirts, jackets, and hats, apart from T-shirts. Many organizations have also started using these custom T shirts as a promotional tool for their products, brands, and services with great success.
With the winter season knocking at the door, more and more companies are looking for uniforms that can keep their employees warm and look professional, too. ShirtMagic is offering them a wide range of designs to suit their requirements for both male and female workers. Custom sweatshirts with flat back and full zip hoodies are perfectly suited as a corporate outfit for women. Talking about the winter collection in the store, the CEO of the company Todd Kriney says, "We have a great selection of full-zip sweatshirts and hoodies here that will fit right for ladies, as well. Majority of the sweatshirts are made of cotton poly blends, so they are softer and does not wrinkle. You can choose between 50/50 or 80/20 cotton/poly fleeces. The latter is cooler on the body if you want to wear hoodies even during the summer."
About ShirtMagic:
ShirtMagic is a one-stop shop for all custom shirt printing needs. The company makes T shirt designing and custom printing easy and affordable. With the use of online t shirt designer, one can create custom t shirts for sporting events, reunions, wedding favors, custom sweatshirts, work apparels, jerseys and even full color posters and banners for indoor and outdoor advertising.