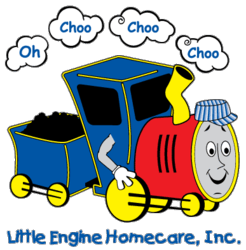 It is because of their [employees] zeal and passion that we continue to advance in our mission of Making a BIG Difference in LITTLE Lives
San Antonio, TX (PRWEB) October 23, 2012
For Andy Pratt, PT (Administrator and Founder), the vision for Little Engine Homecare, Inc. began in November 2006 with a purpose to provide home health therapy services for special-needs children, as well as services specifically for lower income families. "That vision was realized when we admitted our first child on September 9, 2007, and the vision continues to be realized each time we celebrate a child being discharged after having met their goals", explains Andy from his desk at the home office located in San Antonio Texas. "But what I never envisioned was to be blessed by such an incredible staff; from senior staff, to office staff, to clinical staff; all of whom have also caught that vision and have carried it forward to the next level. It is because of their zeal and passion that we continue to advance in our mission of Making a BIG Difference in LITTLE Lives™".
The Top Workplaces are determined based solely on employee feedback. The survey is conducted by WorkplaceDynamics, LLP, an independent leading research firm on Organizational Health and Employee Engagement. WorkplaceDynamics, conducts regional Top Workplaces programs with more than 30 major publishing partners and recognizes a National list of Top Workplaces. Over the past year, more than 4,500 U.S. organizations have turned to WorkplaceDynamics to better understand what's on the minds of their employees.
For more information about the Top Workplaces lists and WorkplaceDynamics, please visit http://www.workplacedynamics.com.
About Little Engine Homecare, Inc.
Little Engine Homecare, Inc. is committed to providing children and their families with the highest quality in pediatric therapy care. Our trained therapists are skilled in providing services for children who may be transitioning from the NICU or hospital, all the way up to the age of 20. Our services include Speech Therapy, Occupational Therapy, and Physical Therapy, as well as Spanish Bi-lingual Therapy and advanced pediatric certification therapy.
As a leader in pediatric therapy services in the San Antonio and Austin area, Little Engine Homecare, Inc. offers a rewarding career with competitive pay, paid full benefits, opportunities for bonuses, and leadership roles. Job Seekers are invited to join our dynamic team that is dedicated to improving the lives of children.
For more information visit: http://www.LittleEngineHomecare.com