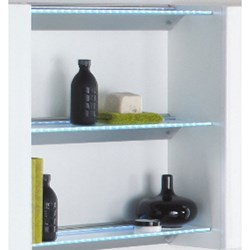 The company stock products by the finest bathroom manufacturers in the UK
(PRWEB UK) 24 October 2012
Adding the final touches to anyone's bathroom suite is a vital area when needing to complete the look and feel of any room. At Bella Bathrooms, the company have gathered the finest range of accessory products to give consumers a wide amount of quality ensuring a wonderful sense of presentation. The company stock products by the finest bathroom manufacturers in the UK such as Hudson Reed and Tavistock assuring the highest quality of products are available.
Bella Bathrooms excel in their range of bathroom mirrors essential for adding the final touch to any wall. They stock a wide range of sizes, colour and designs to help home owners in finding the ideal product for them. Different technological advantages are also available for buyer such as illuminated for bad lighting and heated bathroom mirrors for those struggling to deal with condensation caused by showering or bathing.
To help deal with the lack of space in a room, bathroom shelving can help to provide ample storage area to fit any sized bathroom. A simple wall shelf is brilliant for adding style as well as functionality to any bathroom suite allowing you to store shampoos or soaps. As bathroom selves are available in a variety of sizes, shapes and finishes, it has never been easier to find the perfect addition.
A current appealing offer the company have available at the moment include a bathroom accessory set by GROHE. This provides home-owners with the ability to purchase a group of key bathroom elements for a certain period of time but with limited stock. The bathroom accessory set features five important aspects to help improve the overall look of the suite. The deal features a discounted price thus providing home owners with quality at a low price.
To add a greater quality of visual presentation to your bathroom suite, another set of bathroom accessories the company stock are Bath Mats and Bath Pillows. All of the companies bath mats are extremely cheap and of high quality assured to last the test of time. With a range of colours and designs, finding the perfect choice for any renovation has been made easier. The range of Bath Pillows aim to aid something different and unique to the bathroom suite. Designed to help add comfort to your bath, bath pillows provide a great way to make the most out of any bathing experiences.
About Bella Bathrooms:
Bella Bathrooms is one of the finest UK online bathroom retailers based in the North-East of England and offer continuous great deals of bathroom refurbishments, shower, tower rail and radiator updates, bathroom furniture and various other key elements at prices that are guaranteed to be unsurpassable. The latest updates continuously made have further improved the overall quality and they have set a high standard for things to come in the future.
Bella Bathrooms
Tel: 0844 8117 017
Available to contact from 9:00 – 5:30