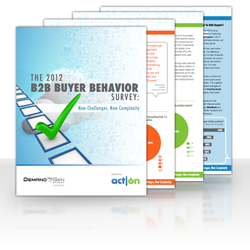 "This study shows that marketing and sales teams are still struggling to keep pace with the changing expectations of buyers," said Andrew Gaffney, Editor of Demand Gen Report.
Hasbrouck Heights, NJ (PRWEB) October 23, 2012
Demand Gen Report, a leading digital publication covering the sales and marketing automation space, has released the findings of its third annual Bt2B Buying Survey. The report, underwritten by Act-On Software, and titled "Inside The Mind Of The B2B Buyer," found the buying cycle is increasing in duration, buyers are conducting extensive research before reaching out to sales reps and are increasingly dissatisfied with the buying experience.
More than 170 B2B buyers polled were involved in the purchase of a solution in the past year, unveiling several noteworthy trends:

The number of respondents who said they were dissatisfied with their B2B buying experience jumped by 50% over 2011, suggesting a serious gap between buyer expectations and vendor performance;
The number of buyers who say they now use a wider variety of sources to research purchases also increased by 50% over 2011;
Buyers who say they involve more team members in the buying process jumped by 67% over the 2011 study;
The number of buyers who said they spent more time researching B2B purchases increased by 15% over 2011.
"There are several eye opening statistics in this survey," said Andrew Gaffney, Editor of Demand Gen Report. "The fact that buyers are increasingly dissatisfied with the engagement process despite all of the tools available shows that marketing and sales teams are still struggling to keep pace with the changing expectations of buyers. It also underscores that those firms that can transform their engagement models rapidly will have a decided advantage over their competitors."
The study raises important questions regarding what vendors can do to improve buyer engagement and satisfaction, deliver quality content to the right decision-makers at the right time, and maintain contact without coming across as overbearing.
"Many B2B marketers agree that marketing automation – when combined with quality content and good sales/marketing alignment provides an effective solution to these issues, says Atri Chatterjee, CMO of Act-On Software. "Marketing automation enables complex, long-term lead nurturing campaigns; it also allows marketers to segment their prospects and deliver targeted, highly relevant content. In the process, marketing automation could help B2B marketers overcome the dissatisfaction many buyers report during their dealings with vendors."
For a complete report, click here. To visit the related webinar, click here.
Comparative trend data from the first two years of the study is available by contacting Demand Gen Report at 201-257-8528.
About Demand Gen Report
Demand Gen Report, a G3 Communications publication, is a targeted e-media publication spotlighting the strategies and solutions that help companies better align their sales and marketing organizations, and ultimately, drive growth. The weekly e-newsletter focuses on the sales and marketing automation tools that enable companies to better measure and manage their multi-channel demand generation efforts.
About Act-On Software
Act-On Software's cloud-based marketing automation platform is the foundation of successful marketing campaigns everywhere – from small, simple and direct, to complex globally implemented programs. Act-On's technology features an Instant-On™ database for accelerated campaign implementation; an easy, highly intuitive user interface; and a comprehensive, feature-rich solution set. This includes a best-in-class email engine with one-click integration to leading web conferencing and CRM solutions; tools for website visitor tracking, lead scoring, lead nurturing and social media prospecting; design tools for web forms, landing pages and emails; and more. Act-On is headquartered in Beaverton, Oregon, with offices in Roseville and Menlo Park, California, and Bangalore, India.