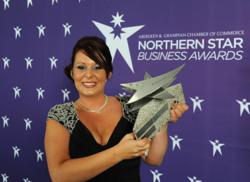 It's an absolute honour to receive this title.
Wilmslow, Cheshire, England (PRWEB UK) 23 October 2012
Thursday 11th October saw more than 800 members of the North East business community come together in celebration of excellence and entrepreneurship at the prestigious Aberdeen Exhibition and Conference Centre for the ninth annual North Star Business Awards ceremony.
Pareto graduate Aileen Scott, who came through the Pareto sales recruitment process in 2008, found herself on the shortlist for the Rising Star award for the second consecutive year, successfully taking the title at the 2012 event. The Rising Star award recognises the outstanding contribution of any employee who has made a major impact within their organisation, and demonstrates true potential for continued success.
"It's an absolute honour to receive this title and I'm extremely grateful to all the staff at Indigo who continue to support and believe in me," Aileen comments. "Indigo has allowed me to develop my abilities by investing heavily in IT and sales training, resulting in me building an in-depth knowledge in IT as well as gaining great technical ability."
Aileen launched her graduate career in Indigo Technologies with extensive sales training from Pareto between 2008 – 2009, covering all the foundations of selling required to not only succeed but excel within her new role. Sales training experts delivered a range of courses, from Professional Selling Skills to Account Management and Live Telephone Selling. The Pareto approach to sales training for entry-level graduates is part of the Pareto sales recruitment package, designed to bring companies the top 20% of the sales team that makes 80% of the difference to the organisation.
Earlier this year Aileen was also promoted to the role of Sales Manager, in recognition of her continued success and achievements within the organisation. Pareto sales training in Sales Leadership and Management ensured she was equipped with all the necessary skills to hit the ground running in her new position.
"We're extremely proud of Aileen's continued achievements since her graduation from the Pareto sales recruitment and training process," remarks Pareto Business Development Executive, Roisin McNeill.
"Her success in moving up within the organisation and this recent recognition of her outstanding contribution clearly demonstrate Aileen's passion to achieve the best for herself and continue to grow. By undertaking on-going sales training throughout her career, Aileen has ensured she is equipped with the tools needed to truly excel. Aileen is proof that the Pareto process delivers."
Aileen Scott is looking to continue to grow her sales team within Indigo Technologies as the organisation embraces a period of growth, following the acquisition of new offices earlier this year.
About Pareto Law:
Pareto Law is the UK's biggest and most successful sales enhancement company: the authority on sales, no less, since 1995. Pareto brings companies the 20% of the sales team that makes 80% of the difference.
The Pareto Effect can be experienced in many ways and it can have a remarkable, measurable effect on your business. Pareto delivers this effect through four key elements – Sales Recruitment, Sales Training, Executive Recruitment and Accolade Sales Transformation, the assessment and accreditation service that delivers sales excellence.