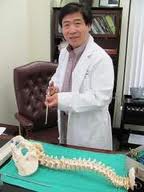 People who undergo cervical disc replacement can opt for fusion later on, but if a patient has cervical fusion first, it's impossible to later put an artificial disc in the same spot.
West Orange, NJ (PRWEB) October 25, 2012
Studies suggest that 80% of the population will suffer from a type of spine problem at some point in their lives. "As people age, their spinal discs dehydrate and become less flexible, lessening their ability as shock absorbers between vertebrae," says Dr. Kaixuan Liu, founder of Atlantic Spine Center in New Jersey. "The bones and ligaments that make up the spine also thicken and become less flexible. The tough outer layer of the discs can tear or crack, which makes them susceptible to herniation." This condition, often categorized as degenerative disc disease, may require total disc replacement surgery. "Today doctors have more options available to treat cervical degenerative disc disease than ever before," adds Dr. Liu. For patients this means eliminating pain and preserving movement in the neck and lower back.
Symptoms of degenerative disc disease
This deterioration generally affects the discs in the lower back and cervical (neck) area. When a disc is damaged, neck pain from inflammation or muscle spasm may result and/or the buttocks and or the backs of the thighs can ache. The shoulders, arms, and hands may also be affected and result in burning, tingling, or numbness from pressure on the cervical nerve roots. By the time we reach fifty, 85% of Americans will show evidence of disc degeneration and the discs have difficulty repairing itself due to its limited blood supply. However, approximately 95% of people suffering from cervical disc disease improve within several weeks with conservative treatments, which may include anti-inflammatory medications, physical therapy, or cold/heat therapy.
However, a minority of people will need cervical disc surgery: more than 250,000 Americans a year undergo a discectomy to remove or repair a herniated disc. This operation typically involves removing the disc that is pinching the nerve or pressing on the spinal cord. To close the space remaining when the disc is removed and restore the spine to its original height, patients have two choices: Artificial cervical disc replacement or disc fusion.
Advantages of cervical disc replacement surgery today
With cervical fusion surgery, the damaged disc is removed and a bone graft is inserted in the space between the vertebrae. The graft eventually fuses to the vertebrae above and below it; however, a long-term consequence can be accelerated degeneration of adjacent discs. Many people also find they lose some degree of movement in their neck because the fusion eliminates motion at the operated disc space.
With cervical disc replacement, an artificial metal disc is inserted between two vertebrae as an alternative to the bone grafts, plates and screws of a fusion procedure. This procedure helps maintain normal neck motion and early postoperative neck movement, along with affording a quicker return to activity. "People who undergo cervical disc replacement can opt for fusion later on," notes Dr. Liu. "But if a patient has cervical fusion first, it's impossible to later put an artificial disc in the same spot." Earlier this year, doctors advised former Green Bay Packers' safety Nick Collins to end his football career after having cervical neck fusion surgery last year due to a herniated disc. Had Collins's initial procedure been disc replacement surgery, he might have been able to then opt for a cervical fusion procedure.
About Dr. Liu: Kaixuan Liu, M.D., Ph.D., is a renowned endoscopic spine surgeon and founder of Atlantic Spine Center in West Orange, New Jersey (http://www.atlanticspinecenter.com). Dr. Liu is certified by The American Board of Pain Medicine and The American Board of Anesthesiology, and is a member of The International Society for Advancement of Spine Surgery, The American Society of Interventional Pain Physicians (ASIPP), The American Academy of Pain Medicine (AAPM), The International Intradiscal Therapy Society (IITS), and The American Society of Anesthesiologists (ASA). He also serves as an international surgeon for The Spinal Foundations in England.