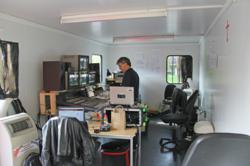 We are very happy with the building provided by PK. It was provided on time and exactly as described.
(PRWEB UK) 23 October 2012
One Born Every Minute, Channel 4's BAFTA winning reality TV show, documents the heart-warming drama of the maternity ward and takes an in-depth look at the experiences of both staff and parents-to-be. In anticipation of season 4, the show's producers (Dragonfly TV and Film Productions) hired PK Accommodation, an established and reliable company, to provide them with their construction expertise.
Filming on location at the Leeds General Infirmary, Dragonfly required extra capacity to house their production team and crew of up to 24 per day. The crew cover 24 hours a day, 7 days a week in order to monitor and record the goings on in a busy delivery suite, with each shift covered by a team of 8 at a time. This building was to occupy a space of 60 square metres, and house the team for a period of 8 weeks.
This was not the first time that Dragonfly had hired out Portakabin modular buildings, so on realising that they needed them once again; they quickly contacted PK Accommodation to agree on a competitive hire rate. Conveniently for Dragonfly, PK was in possession of a fleet of Portakabin Units and reserved two double stacked units with a staircase running through them.
In compliance with hospital restrictions, the building was delivered and installed on a Sunday. Within no more than a couple of days the Dragonfly crew promptly found themselves operating in a fully functioning and refurbished facility, completely tailored to their requirements.
Dragonfly's Production Manager, Gemma Mcdonnell, stated "We are very happy with the building provided by PK. It was provided on time and exactly as described. There were no surprises. Our PK representative simply could not have been more helpful".
Dragonfly Film and Television Productions Ltd is one of the UK's leading independent production companies. Part of the Shine Group, it has produced more than two hundred hours of television for channels including BBC, Channel Four, Five, National Geographic, Discovery and Sky One.
About PK Accommodation Ltd:
PK Accommodation Ltd is one of the largest providers of cost-effective refurbished and used portable buildings, used cabins and portable accommodation for purchase or hire.
To learn more about the company, please visit: http://www.pk-cabins.co.uk