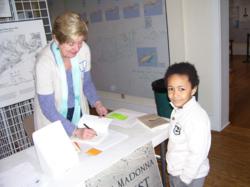 "Civilizations are defined by their stories."
Massapequa Park, NY (PRWEB) October 30, 2012
Education in the U.S.A. is under attack on many fronts. Educators are responding by marshaling their best minds to establish higher standards and best practices. Linda Maria Frank has been working with a fellow author, Suzanne Litrel, to present the ideas of using historical fiction as a motivational tool to spark interest in topics of social studies and science. Both authors use teen heroes and the YA mystery genre.
The two authors presented this idea to the Long Island Council for the Social Studies (LICSS) on Oct. 15, 2012 to more than 100 participants, who expressed interest in receiving more information.
Frank's Annie Tillery Mystery, "The Madonna Ghost", is a good example of how the historical background of the ghost in the story can be explored through interesting student-centered lessons. Through a series of interrelated station lessons, students are able to explore local history by experiencing some aspects of times gone by. In "Girl with Pencil Drawing", aspects of authentication of art pieces through forensic science are explored, as well as a back story of one of the greatest art thefts in history, by Nazi Germany.
Part of Frank's rationale for the use of fiction as a motivator is that civilizations are defined by their stories. Visit Frank's website to get a full view of the well drawn lessons based on her books.
About Linda Maria Frank: She has enjoyed a lifelong career teaching science at both the high school and university levels, enabling her to convert case studies from her forensic science courses into credible mysteries for girls of all ages. She continues to contribute to the field of education by providing lesson plans for teachers based on her books (see her website). She resides on Long Island, New York. The first two books of the Annie Tillery Mysteries are "The Madonna Ghost" and "Girl with Pencil, Drawing". Frank promotes her books by doing programs about mystery writing, self-publishing, and the world of marketing. She does fundraising events using her adventures in authorship as a draw. Frank also is the producer of "The Writer's Dream", a local access TV show, featuring interviews with authors. The show can be seen on Youtube and facebook.