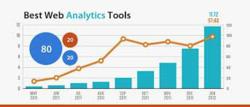 In this FREE seminar, small business owners will learn about S.M.A.R.T. Goals, and web analytics tools to further their personal business objectives.
FORT LAUDERDALE, Florida (PRWEB) October 22, 2012
Lori A. Mosby, who is working toward her Master of Science degree in Online Marketing, is a marketing consultant for small business owners in the Fort Lauderdale, Florida area. She will share critical and relevant information on web analytics and how small business owners can apply these metrics to their business.
Web analytics is the study of website visitors behavior, and small business owners should want the ability and skills to categorize the various data in a way that benefits them. The web analytics data can be specifically tailored for your website/business marketing strategy, said Mosby.
Lori A. Mosby, will discuss metrics such as page stats, visitors, comparing new, unique, and returning. She will further discuss the technology stats such as the operating systems and browsers used to access websites. Lastly, she will discuss campaign ROI, such as using Google Ad Words for a paid campaign.
In order to signup for this FREE online seminar, you must register at: http://www.onlinemarketingwebsites247.com. You will need to complete the contact form on the website, by leaving your name, email, and telephone number, and you will receive a request from Google+. The seminar will take place online, so you can be any place in the U.S., to join in. Please register or you will not be able to attend this most important online seminar for small business owners.
More About More Local Marketing, Inc.: Lori A. Mosby is the Principal Consultant at More Local Marketing, Inc.(MLM). MLM provides online marketing services, SEO services, Google Placement services, website development, and redesign services, Social Media Services to business owners, at an affordable rate. The firm delivers winning advice to business owners in order for them to get the most out of their website and online marketing services.
For more information, you can contact:
Lori A. Mosby
More Local Marketing, Inc.
305-647-8414
Email Information