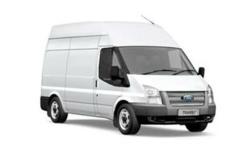 (PRWEB UK) 22 October 2012
Tradesmen and small businesses in the market for good used vans can benefit from a new scheme from Hertz UK called Rent2Buy. It offers van buyers the chance to try out the van as they'd really use it everyday, whether it be for long-distance or city driving – or even to see whether the van is big enough to fit their kit into.
Prospective buyers have the opportunity to take a test drive for up to 10 days, which is then provided as a free rental if the van being test-driven is purchased.
All test drives are provided at discounted rates for the basic rental and also earn Nectar points. In addition, buyers can collect 10,000 Nectar bonus points upon final purchase.
Hertz says buyers will be offered prices that are often lower than Parker's suggested used van values because, as one of the world's largest vehicle buyers, the rental company benefits from savings that can be passed on to customers.
As prices are fixed, the stress of haggling often associated with used car sales is eliminated, says Hertz. Vehicle financing options are also available. The low-mileage sale vehicles are showcased on the Hertz Rent2Buy website http://www.HertzRent2Buy.co.uk, with details including mileage, colour and registration number.
All vehicles are fully serviced, with many still under manufacturers' warranty and have 12,000 to 50,000 miles on the clock. The test drives are offered at 120 Hertz branches throughout mainland UK. And, Hertz points out that whereas a usual vehicle may be checked every month, Hertz vehicles are, on average, checked every 3.6 days to ensure they are in top condition.
If, after full use of the preferred van for up to 10 days, the customer decides not to buy the vehicle, it is returned to the renting location and the transaction is treated as a standard rental.
Michel Taride, President of Hertz International, told Business Vans: "Rent2Buy is unique, hassle-free buying experience for business van buyers seeking an exceptionally well-priced, high-quality used vehicle. Hertz can pass along great savings to our customers because we buy thousands of vehicles annually at below retail rates."
Terms and conditions apply and can be found on the Rent2Buy website.
Keep up to date with developments in our Business Van News section.