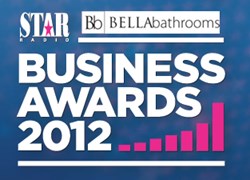 I understand the amount of effort individuals have to put in to gain the rewards.
(PRWEB UK) 25 October 2012
As the business market can be a hard area to master within today's society, Star Radio have announced the occurrence of a 'Star Business Award' where companies can gain the chance of sharing a segment of the £20,000 advertising money. Star Radio host the event in the aim of helping local businesses to earn a rise in public and media attention creating a enhancement in reputation as a result of the great work they provide.
The awards feature a variety of categories within different aspects allowing a wide range of winning options. Bella Bathrooms are proud to announce involvement in the event by sponsoring one of the most important awards at stake, the 'Business of the Year Award'. As Bella Bathrooms are highly regarded company themselves situated in close proximity to the Star Radio headquarters, this provides a great opportunity for them to invest money into the prize fund and gain public attention themselves.
James Chapman, the owner of Bella Bathrooms stated 'As the owner of my own business, I understand the amount of effort individuals have to put in to gain the rewards. With the experience I have already gained I felt it useful to sponsor the event and help companies understand that they are heading in the right direction'.
The 'Business of the Year Award' presented by Star Radio is judged on a range of key factors. Judges will analyse how innovative the business has been within its field and how well the company has grown in the past year. Financial documentation is needed to help support their application and will further enhance probability of victory.
Bella Bathrooms have heavily invested to gain the sponsorship for the category. Doing this allows them to gain on-air mentions to 73,000 listeners across the UK. These statistics provide evidence of how publicly appealing the event is during its fourth consecutive year of awarding. The company having invested in a sponsorship will also gain a prestigious position as a major supporter of local business and enterprises across the local area. An investment in sponsorship also enables the owner of Bella Bathrooms to publicly present the award to the winners during the final ceremony.
About Bella Bathrooms:
Bella Bathrooms is one of the finest UK online bathroom retailers based in the North-East of England and offer continuous great deals of bathroom refurbishments, shower, tower rail and radiator updates, bathroom furniture and various other key elements at prices that are guaranteed to be unsurpassable. The latest updates continuously made have further improved the overall quality and they have set a high standard for things to come in the future.
Bella Bathrooms
Tel: 0844 8117 017
Available to contact from 9:00 - 5:30