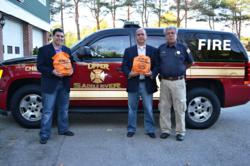 Upper Saddle River, NJ (PRWEB) October 26, 2012
Jason and Steven Kolinsky, of Kolinsky Wealth Management LLC. and residents of Upper Saddle River, recently donated a set of pet oxygen masks to the Upper Saddle River Fire Department on behalf of Companion Animal Advocates (CAA). The masks come in three sizes for large, medium and small dogs/cats. These specially sized masks will enable firefighters or EMT's to deliver oxygen to pets in need and in some cases save their lives.
"People care as deeply about their pets as they do human members of their family," said Christine Devereaux, Vice President of Companion Animal Advocates. "Now pets in the Upper Saddle River community have a much better chance of surviving smoke inhalation since they have received these masks. These masks work well because they are small, and are designed to fit over snouts. Even birds and hamsters can be placed inside the masks."
"Pets are such a huge part of a family and we are proud to have donated this set to ensure that pets in Upper Saddle River are safe," said Steven Kolinsky, resident of Upper Saddle River and President of Kolinsky Wealth Management LLC. "We know that it will help improve the fireman's response to all member of the community, including pets. We are pleased to know that pets in Upper Saddle River now have a chance of survival in case of smoke inhalation."
If you are interested in donating a set of oxygen masks to your community, please contact Christine at CAA at 201-706-7666. The $100 tax-deductible donation includes: 3 oxygen masks (1 small, 1 medium & 1 large), 3 oxygen air tubes (1 for each mask, 22 mm diameter), 1 O2 Fur Life carry bag (for storage & mobility), 1 laminated instruction sheet (includes ABCs of CPR For Cats & Dogs), 1 kennel lead (for animal restraint & control), 2 "Pet Oxygen Masks On Board" decals (for display on vehicle and in department), 1 PowerPoint presentation (for personnel training), 1 instructional DVD "Pets Need Oxygen Too" (1 per order), 2 animal incident report (AIR) forms for first responders (carbonless 3-part) and a pet rescue notice form (printable document, PDF).
One of the goals of Companion Animal Advocates' humane education program is to make sure that every town in Bergen County is equipped with a kit so that pets are protected in case of an emergency. So far this year, CAA has donated more than 64 sets of pet oxygen masks throughout Bergen and Passaic Counties.
Companion Animal Advocates (CAA) is a 501(c)(3) non-profit organization based in Bergen County, NJ. CAA is dedicated to the welfare of companion animals within our community through programs designed to keep pets in their homes and reduce pet overpopulation. For further information, please contact Christine at Christine (at) CompanionAnimalAdvocates (dot) org, visit http://www.CompanionAnimalAdvocates.org and sign up for our newsletter or contact us at 201-706-7666.
Photo courtesy of Companion Animal Advocates
Pictured from left to right:
Jason and Steven Kolinsky of Kolinsky Wealth Management and Upper Saddle River residents and Assistant Chief Larry Rauch of the Upper Saddle River Fire Department