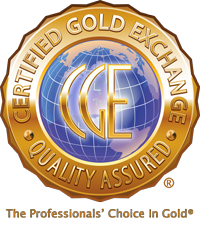 The American people will be forced to pay for the mistakes of the government.
New York, NY (PRWEB) October 23, 2012
The "fiscal cliff" is a relatively new economic term that references certain tax assistance laws that are set to expire on December 31, 2012. These laws were set during the Bush administration and have continued throughout the Obama administration. According to this CNN article, reaching the fiscal cliff without government intervention will mean an increase in taxes, reduction of personal disposable income and reduction in federal spending, which will cost many US taxpayers an additional $3,500 per year in taxes. Over 1,000 government programs will see automatic cuts as a result of the fiscal cliff, including defense programs and health care.
Arthur McGuire, Vice President of the Certified Gold Exchange says, "We surveyed 100 gold investors and concluded that despite government intervention, they believe we will eventually run off the fiscal cliff because the United States economy has run out of options. According to projections from the Congressional Budget Office, reaching the fiscal cliff will cut the 2013 deficit in half, but will also reduce U.S. GDP by nearly 4%, which could mean an additional 1% in unemployment, with a reduction of at least 1-2 million jobs. The American people will be forced to pay for the mistakes of the government."
McGuire add,s "Many wise investors are looking into safe-haven assets such as gold and silver in order to protect their wealth from the inevitable future."
The Certified Gold Exchange, Inc. (CGE) is North America's premier precious metal trading platform backed by a solid PriceMatchPlus® Guarantee. They provide both institutional and household investors with real-time quotes and instant liquidity when buying or selling gold, silver and platinum products. For more information, call CGE at 1-800-300-0715 or visit http://www.CertifiedGoldExchange.com today.