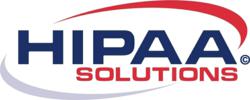 Managing compliance for HIPAA & HITECH is easier and more effective with HIPAA ComplyPAK™ automated compliance tools
Sugar Land, TX (PRWEB) October 24, 2012
HIPAA Solutions, LC has announced enhanced features for its web-based HIPAA compliance software solution, the HIPAA ComplyPAK™ version 2.5, to allow Compliance Officers to monitor and create detailed reports on employee activity related to reading and following corporate policies and procedures as well as the completion status of HIPAA and HITECH training included in the software.
HIPAA ComplyPAK™ is an innovative suite of software tools that allow an organization to maintain comprehensive compliance with Privacy (business processes) and Security (IT and physical) requirements of the Federal HIPAA and HITECH regulations.
Key features of HIPAA ComplyPAK™ include:

Automatic distribution of all policies and procedures which are updated on a regular basis as changes in the law occur
Monitoring and timing of employee activity related to reading procedures and using controls provides oversight to ensure actions are taken for compliance
Training is available on demand, updated as needed, and certifications of training are generated for completion of training
Online auditing tools enable Covered Entities (CEs) and Business Associates (BAs) to conduct unlimited audits on other organizations to ensure compliance with all appropriate rules
HIPAA forms and sample legal documents are provided online for signing and storage, including BA Agreements, Authorization and Consent forms
Security tools enable an organization to audit and remediate networks
Security tools can address Meaningful Use criteria for electronic health records.
Automated "Accounting of Disclosures" feature enables an organization to produce accurate and timely "Accounting of Disclosures" reports for patients
Automated tools enable an organization to comply with the "Minimum Necessary" rule related to access, use and disclosures,
HIPAA ComplyPAK™ can produce management reports on demand for both the Privacy and Security rules
Extensive help documentation is a part of this legal software including unlimited training on using the software
Customization - HIPAA ComplyPAK™ was designed to allow customization to suit the individual requirements of an organization
HIPAA ComplyPAK™ makes compliance efforts more effective and reduces risks by ensuring that compliance actions are taken and documented as proof of compliance while allowing Privacy and Security Compliance Officers to effectively monitor compliance activity by employees.
To learn more about how HIPAA ComplyPAK™ can save time and money associated with compliance while reducing the risks of non-compliance, contact HIPAA Solutions, LC or call toll free at 877-779-3004. More information is also available at http://www.hipaasolutions.org.
_________________
HIPAA Solutions, LC (HSLC) specializes in providing the highest quality in compliance assessments and audits, web-based legal/technical software tools that automate compliance with the Privacy and Security regulations associated with the Health Insurance Portability and Accountability Act (HIPAA), and training on HIPAA and HITECH compliance.
HSLC is unique in that it has specialized in this field since the implementation of the HIPAA Privacy rule starting in 2003. HSLC has developed a national presence as a provider of quality compliance resources and we understand the importance of cost-effective and reliable compliance resources.
The HSLC client list includes a wide variety of organizations, ranging from healthcare providers, insurance companies, health information exchanges (HIEs), health IT technology developers, businesses, government entities, and educational institutions.
Copyrighted ©HIPAA Solutions, LC 2012