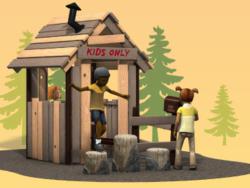 Delano, Minn. (PRWEB) October 23, 2012
Landscape Structures Inc., a Delano, Minn.-based commercial playground equipment manufacturer, is excited to introduce the latest theme playground design—the PlayShaper® Kids Cabin. Clients of Landscape Structures can order this design innovation as is, customize it to fit their needs or create a completely unique playground theme.
While Landscape Structures calls this design the Kids Cabin, some kids will call it a fort, a hideout or a clubhouse. One thing is for certain, the playground design is sure to encourage imaginative play for kids ages 2 to 5. Kids will engage in social play as they create games, hop from one Log Stepper to the next, play the Bongo Panel® and check the mail.
Landscape Structures has decades of playground design experience and has created, manufactured and installed nearly 5,000 custom and theme playgrounds throughout the world. The company turns an ordinary playground into an outdoor adventure by blending together traditional playground components with nature-inspired accents for a unique play experience.
With the combination of its unique manufacturing capabilities combined with a team of talented designers, sculptors and artists, Landscape Structures has created many innovative playground designs that engage children and visitors of all ages including a farmstead-themed playground in Mankato, Minn., and a sprawling nature-inspired playground in Las Vegas, Nev.
Learn more about custom and theme designs from Landscape Structures by visiting playlsi.com/go/uniquelyLSI, and contact a local playground consultant to get started on a playground design today.
Since 1971, Landscape Structures Inc. has been the leading commercial playground equipment manufacturer in the world. The employee-owned company is committed to making the world a better place with active children thriving in leading communities year after year, generation after generation. Landscape Structures encourages outdoor play that develops healthy kids and a sustainable world by creating innovative products that are environmentally responsible. The company's mission from day one has been to enhance children's lives by fostering and creating inspiring play experiences while honoring the environment.