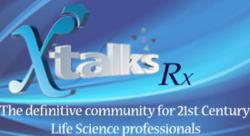 Toronto, Canada (PRWEB) October 24, 2012
Membrane proteins are important targets in the pharmaceutical industry, and compose an estimated 50 to 60 percent of potential novel drug targets. Determination of structural information on drug targets is of immense benefit and has become an important standard tool for hit to lead development.
However, membrane proteins are notoriously difficult to express, purify, and crystallize.
In a new Xtalks webinar taking place on November 12, 2012, Dr. James Fairman, a group leader of Membrane Protein Crystallography, will present and discuss some tools that Emerald Bio uses for the expression and crystallization of membrane proteins.
This webinar will various techniques, including:

Fluorescence Coupled Size Exclusion Chromatography (FSEC) and its application to expression and detergent solubility screening of membrane proteins
Fluorescence Recovery After Photobleaching (FRAP) method and its relevance to improving crystallization conditions of membrane proteins in the lipidic cubic phase.
Dr. Fairman joined Emerald Bio in 2011, where he applies his experience in membrane protein crystallography to client projects. Before this, Dr. Fairman was at the National Institutes of Health, where he studied purification and crystallization of membrane proteins. His research at the NIH led to the first ever Se-Met de novo phased lipidic cubic phase membrane protein X-ray crystal structure.
For more information about this event or to register, visit: http://xtks.in/xto-538p
Xtalks, powered by Honeycomb Worldwide Inc., is a leading provider of educational webinars to the global Life Sciences community. Every year thousands of industry practitioners turn to Xtalks for access to quality content. Xtalks helps Life Science professionals stay current with industry developments, trends and regulations. Xtalks webinars also provide perspectives on key issues from top industry thought leaders and service providers.
To learn more about Xtalks visit http://xtalks.com/ContactUs.ashx
Contact:
Karen Lim (416) 977-6555 ext 227
clientservices(at)xtalks(dot)com