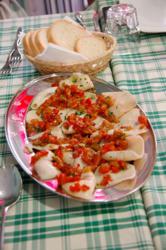 "Our urge to help their visitors got even bigger as we are now welcoming Italian recipes in their site," says DIYCHEF.com
Santa Ana, CA (PRWEB) October 25, 2012
Mothers and other people who loves to cook will find another way to be loved more by the special people in their lives as DIYCHEF.com brings its avid visitors a taste of the Italian cuisine.
DIYCHEF.com is a recipe video sharing and posting website that is dedicated to help mothers and people who have a flair and interest for cooking. This is through the numbers of new recipes that they offer their regular website visitors.
"Our urge to help their visitors got even bigger as we are now welcoming Italian recipes in their site," says DIYCHEF.com
Italian cuisine has a large part and a large contribution in the food industry that is why it will always have a page in every cookbook regardless of whether the cookbooks are the usual or the online ones.
A lot of people think that Italian dishes are hard to make especially if they are cooking through following a recipe in written format. The world has gone visual now and a lot of people prefer to watch or listen to tutorials and recipes than to read them.
That is why the website believes that the idea of including Italian recipe videos on the site will be a lot of help for those who want to learn how to cook Italian dishes. Since the tutorial is on a video format, the website believes that it will be easier for the visitors to learn how to cook the dishes. This is also the same for other tutorial videos posted on the website.
Since it is a recipe video sharing site, DIYCHEF.com feels that their site will soon include Italian recipes that are not usually included on regular cookbooks. For them, it is an advantage that their site runs through cooking tutorials posted by website users; given that a lot of cooks out there have their own version of different Italian recipes that they are willing to post and share for those who would want to explore and learn.
The new break in their usual recipe flow is considered as a major turning point for their website. DIYCHEF.com says they "are now expecting a larger range of visitors because of the larger range of recipes that they are offering."
The recipe sharing site now calls unto their regular website visitors, and other online users who have not tried to visit their site, to post and share their knowledge about Italian dishes for the world to know. Form the traditional recipes to the modern ones, they welcome them.
The site is can also be a ground for popularity those who aim to be Italian cuisine chefs in the future. For the old users, they could just upload their video recipes into the site and name the video the Italian way for a more Italian feel. For new, users, they could first simply sign –up than post their videos
For more information and details, you could contact Prakash Aravind through 9825632156 or e-mail at vilambaraceo (at) gmail (dot) com.