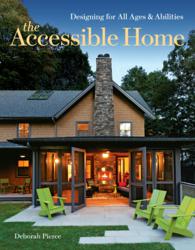 "When our homes are truly planned with the whole person in mind, we can transcend the ordinary," says Deborah Pierce, author of The Accessible Home: Designing for All Ages and Abilities.
Newton, Connecticut (PRWEB) October 23, 2012
The Taunton Press is pleased to announce The Accessible Home: Designing for all Ages and Abilities, by Deborah Pierce, will be published on October 23, 2012. Foreword by Michael Graves, FAIA.
This first-of-a-kind home design book addresses the needs of families, couples, and visitors looking for an accessible home that is both beautiful and functional. The Accessible Home shows how ordinary people with extraordinary challenges can partner with architects, designers, and their own families to create homes that restore capabilities, independence and the grace of daily living.
The book is also a tool for the more than 80 million Baby Boomers to age in place in their current homes and lead a lifestyle with independence, comfort, and safety for decades. A recent survey by AARP revealed that 84 percent of Boomers would like to stay in their current homes during retirement, but only 16 percent have taken any steps to adapt their homes accordingly.
Author Deborah Pierce is one of our nation's foremost experts on universal design. As an architect for the past three decades, she has been focusing on how a home serves the activities of daily living. As a result, the projects in this book convey the power of universal design – useable by everyone.
Michael Graves, FAIA, says, "Deborah Pierce tackles the small problems along with the large in her quest to make wonderful places where people with disabilities can live comfortably and safely."
Homeowners, architects, designers, remodelers and builders will find ideas, inspiration and courage to create homes that are unique to each household's requirements and at the same time, attractive to broad segments of the population. She shows us that "accessible" can be beautiful and functional, light and airy, low-maintenance, safe and comfortable, and that universal design today is a far cry from the grab-bars and ramps of yore.
The Accessible Home features 25 new and remodel projects from across North America including before and after photos that show readers how to transform an existing home into one that serves its owners for years to come.
ADVANCE PRAISE FOR THE ACCESSIBLE HOME
Inspiring, visionary, and yet totally down to earth. This is a must-read for anyone designing the home of a lifetime.
Hugh Delehanty, co-author of Caring for Your Parents: The Complete AARP Guide
Deborah Pierce has created an inspired, beautiful, and practical book. The Accessible Home will be appreciated by the person/family newly struggling with the realities of changes in her, his, or their abilities as well as the experienced designer needing guidance. I've been reviewing and critiquing books on accessible design for 30 years; this is the most complete home design book I've ever seen. It illustrates the alchemy that occurs in a respectful partnership between designers and their clients.
Elaine Ostroff, Hon. AIA, Founding Director, Institute for Human Centered Design
(Adaptive Environments)
This book shows us that an accessible house can incorporate beautiful design and meet the functional needs of the people who live there through their lifespan. It's refreshing to see that access is interpreted widely and includes design for better hearing. 17% of Americans have hearing loss and they will love the acoustical treatments, natural light, round tables, and looped spaces that make communication easier and entertaining fun again.
Brenda Battat, Executive Director, Hearing Loss Association of America
The Accessible Home is a comprehensive approach to designing living spaces for people with disabilities from an individualized perspective. It is especially gratifying to see detailed attention paid to the often misunderstood or overgeneralized needs of active lifestyle wheelchair users. I've been waiting to see a book like this for a long time."
Tim Gilmer, Editor, New Mobility magazine.
With The Accessible Home, Deborah Pierce has delivered the evidence that well-designed homes can integrate function without forfeiting style. She not only shares a practical framework for thinking differently about how our homes can minimize limitations, she also inspires us with detailed case studies from across the nation. We all relish the fantasy of a home that expresses our best selves. In The Accessible Home, Deborah Pierce delivers abundant proof that the dream is very much available for anyone with a functional limitation. She illustrates the practical steps to guide a fresh way of thinking and shares the details that are key not only to homes that work but also delight.
Valerie Fletcher, Executive Director, Institute for Human Centered Design
Deborah Pierce tackles the small problems along with the large in her quest to make wonderful places where people with disabilities can live comfortably and safely. Her thoughtful case studies are full of helpful ideas, many of them little things that make a world of difference to a disabled person. More than that, however, she sets her sights on creating houses that are beautiful, comfortable, and convivial for the entire family and their guests. That is one of the most gratifying accomplishments for any architect. I commend her on this insightful book, which will prove useful--and accessible--to the public and professionals alike.
Michael Graves, FAIA
Title: The Accessible Home: Designing for All Ages & Abilities
Publish date: October 23, 2012
Publisher: The Taunton Press
ISBN-13: 978-1-60085-491-0
Price: $27.95
Pages: 224
Photos: 225
Drawings: 30
Cover: Paperback
Trim Size: 8 ½ x 10 7/8 inches
Taunton Product: 071400
Web site: http://www.taunton.com
About the author: Deborah Pierce, AIA, is principal of Pierce Lamb Architects in Newton, Mass. and lectures across the country on the topics of architecture, accessibility and universal design.