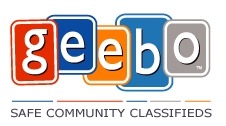 I identified the most visited area of the site and focused all of my efforts in that one section
Mclean, VA (PRWEB) October 24, 2012
Geebo, an independent and privately funded U.S. online classified advertising site, today announced it has reached a major milestone in visitor traffic. In the month of August 2012, Geebo attracted 1 million unique visitors, a 180 percent increase over the same month a year earlier. Likewise, Geebo moved into the second-place position for most-visited classifieds site within the United States, excluding craigslist, according to market researcher complete.com.
Greg Collier, Founder and CEO of Virginia-based Geebo, attributed the traffic growth to the company's redirected efforts to focus on employment-centric listings.
"I identified the most visited area of the site and focused all of my efforts in that one section," Collier said in a blog post. "Direct employers, recruiters, employment specific advertising agencies and stand-alone jobs boards are always looking for new outlets to distribute their jobs and, with that growth in job volume, the eyeballs to those listings followed."
As the economic conditions across the U.S. continue to improve, jobs reports continue to hint at more upbeat fourth quarter and an increase in hiring. Earlier this month, a CareerBuilder survey found that 26 percent of employers have plans to add permanent full-time employees in the fourth quarter, an increase of five percentage points from 2011 and closely mirroring pre-recession estimates of 27 percent.
CareerBuilder CEO Matt Ferguson called the fourth quarter jobs projection report "the most optimistic" projection since 2007. "We're seeing continued evidence of stability and growth in the U.S. job market."
Collier also noted that, through various marketing initiatives, Geebo worked to ensure that job seekers were kept informed of new vacancies in the job market the moment new listings were posted to the site. Likewise, the company identified new job distribution partners and implemented efforts around Search Engine Optimization in an effort to drive job seekers to the site.
By comparison, other classified sites in the U.S. have seen traffic to their sites decline. Oodle, for example, has seen traffic declines of 27 percent while Olx is down 28 percent and Vast is down 55 percent in the same period of time,
ABOUT GEEBO:
Geebo is an independent U.S. online classifieds marketplace based in McLean, VA. Founded in 2000 by entrepreneur Greg Collier as a site for promoting job listings and other services in the Sacramento, CA region, Geebo has grown into a national site that's populated, in part, via partnerships with specialty advertising sites, as well as free listings posted by private individuals.