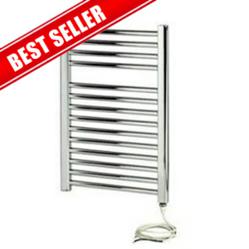 (PRWEB UK) 23 October 2012
The global warming is drastically increasing which has led an increase in the use of Towel radiators. Many parts of the UK experience extremely cold winters. Though there were many warming equipments earlier too but now towel radiators have become a prime necessity. Parts of UK experience extremely cold winters, this makes heated towel radiators keep the wet towels warm and fluffy. The crisp towels later become perfect for bathing and showering.
Cnmonline store offers an extensive collection of many towel radiators from many brands. This gives the customer wide choice to opt from. There are the standard oil filled and electric towel radiators and the fancy towel radiators by Canterburry, Apollo, Quinn.
There are various uses of towel radiators like the radiation even kills the germs and bacteria if any in the towels. The store offers excellent quality towel radiators which make the room very functional after adding lots of elegance to the bathroom. Most of the customers use these towel radiators for keeping the towels dry and warm. The customers feel very happy after wrapping the toasty and warm in the heated towel radiators. So, keeping away from cold climate has permanent solution now with Cnmonline UK towel radiators and one should be installed in every bathroom.
Towel radiators retain the exact amount of moisture in the material without over drying the lingerie, towels, sweaters and so on when compared with any regular dryer. Towel radiators offered by the store is durable and reliable as per quality which may reduce the lifespan. These towel radiators maintain the tradition too as one can maintain the quality of old linen of table cloths and hankerchief's passed on by grannies, such that one can pass on further.
During winters many customers come across a common problem of drying the socks, woolen clothes, mittens and much more than getting the towel radiators is the most suitable option. This will make the dryer free when compared with other items which will make the towels warm and crisp for convenient use. The towel radiators have another benefit which keeps away the mildew and the molds. Now asking children to throw up the wet winter clothing on towel radiators apart from the dryers is easy.
The towel radiators offered by the Cnmonline will reduce the dampness in the room also mainly when the bathroom does not have any ventilation. The towel radiators will generate the ample amount of heat that will prevent the cold from the room and add warmth.
A senior official from the Cnmonline store said, "Towel Radiators" offered by the store come with a warranty because of the brands available with us. Each has premium features which are super functional and allow every customer to enjoy the benefits of the towel radiators at reasonable prices".