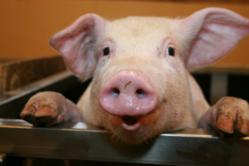 The WHS hosts events like this because we believe in educating the public on how to make humane choices
Winnipeg, Manitoba (PRWEB) October 25, 2012
On Monday, October 29th, from 7-8:30 p.m., The Winnipeg Humane Society (WHS) will host an evening event put on by the Farm Animal Welfare Committee (FAWC). The event is free to attend and open to the public, and will provide information on how ordinary people can make a difference for farm animals.
Dr. Olivier Berreville will be the evening's feature speaker and will share his knowledge about the humane treatment of farm animals. Dr. Berreville is teaching a new course called Advocacy and Animal Rights at the University of Manitoba. He is also the Scientific Advisor for Canadians for Ethical Treatment of Food Animals. Dr. Dana Medoro from the Farm Animal Welfare Committee will also be presenting and will speak about crisis capitalism and pork production.
"People want to know where their food comes from and how it was treated before it arrived on their dinner plate," says Bill McDonald, WHS CEO, "The WHS hosts events like this because we believe in educating the public on how to make humane choices."
The event will take place in The WHS classroom (multi-purpose room) and light refreshments will be served.
###
About: The Winnipeg Humane Society is a registered charity and non-profit organization whose mission is to protect all animals from suffering and to promote their welfare and dignity. Funded primarily by donations, memberships and bequests, The WHS also offers pets and dogs for adoption by the public. All pets offered for adoption have been spayed or neutered, received necessary shots and treatments, and a behavioural assessment. If you'd like to learn more about dogs for adoption or The WHS please visit http://www.winnipeghumanesociety.ca