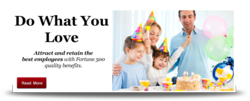 We are excited to offer a new wellness initiative that we think our employees will enjoy.
Duluth, Georgia (PRWEB) October 24, 2012
HR Strategies is encouraging health and well-being among their internal employees, and their families, by promoting and encouraging active participation in the Humana Vitality wellness program. In kicking off the program, Jim Beesley, CEO, stated "We are excited to offer a new wellness initiative that we think our employees will enjoy. We want them to understand that we value our employees and want to help remove the obstacles to reaching their goals in healthy living, while giving them the support and tools to help make lasting changes in their lives."
To fully introduce the program to their employees, HR Strategies held a Lunch and Learn Vitality Launch on Friday, October 19th. During this time, employees learned about the Health Assessment, a completely confidential online questionnaire that helps them understand their current health. By completing the Health Assessment, they will receive a health report that provides useful information on how to have a healthier lifestyle. Employees' results may focus on exercise, weight management, tobacco cessation, healthy eating, or work and family stress. Employees are also being provided opportunities that can help them reach their own personal health and wellness goals.
HR Strategies stressed that Humana Vitality is for everyone, not just for the people who are already focused on wellness. The Lunch and Learn Vitality Launch, was just the first step. HR Strategies is planning on engaging employees in well-being in the Humana Vitality program through a series of individual and team challenges, as well as monthly Fun Fridays centered on wellness, activity and health knowledge.
HR Strategies' engagement in the Humana Vitality program is just one way they continue to improve employee lifestyle, well-being, and therefore productivity and employee retention. Client and work-site employees will soon be able to implement the Humana Vitality program at their locations as well.
About HR Strategies
HR Strategies provides the customizable HR solutions(including but not limited to payroll, benefits, workers compensation, tax administration, regulatory compliance, HR consulting, training solutions) and expertise of a large corporation's personnel department in an affordable and effective solution. HR Strategies enables clients to reclaim time, stabilize and reduce labor costs, and stay compliant with government regulations.